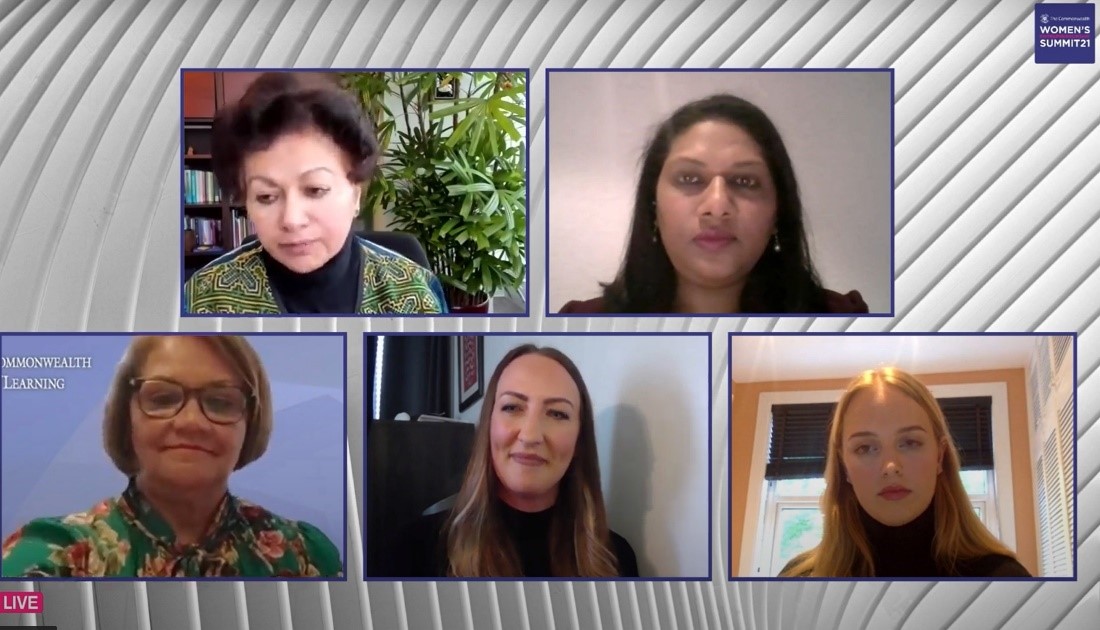 COL's President and CEO Professor Asha Kanwar moderated a panel discussion on the first day of the Commonwealth Women's Entrepreneurship Summit 21. "Edtech for the New Normal" focussed on the ways technology can empower women entrepreneurs for success and build their resilience in the face of COVID-19.
Panelists included Ms Frances Ferreira, Education Specialist: Gender and Ms Alexis Carr, Monitoring and Evaluation Manager of COL; Ms Nazrene Mannie, Executive Director of GAN Global, Switzerland; and Ms Lauren Shea, Gold Ambassador and Young Person Advisory Board Member of TeenTech, UK.
Panelists talked about the skills necessary to empower women to be prepared for an increasingly changing and dynamic work environment and the biggest barriers to female entrepreneurship. They discussed opportunities and resources available for female entrepreneurs to build their enterprise, the efficacy of Massive Open Online Courses (MOOCs) and ways in which micro-badging and credentialling can assist women to get the skills needed to embrace technology.
Professor Kanwar noted that collaboration is critical for enhanced impact of any interventions aimed to support women entrepreneurs and innovations for the post-COVID-19 normal have to target everyone, leaving no vulnerable groups behind.
Ms Ferreira stressed the importance of understanding local realities which could present barriers to women's empowerment. She spoke about various innovations implemented by COL in collaboration with local partners, using context specific technology to improve women's access to technology, such as Aptus.
Ms Carr spoke about the direct link between women's empowerment and their business success, citing COL's research that found that 1% of increase in women's empowerment led to 2.3% boost in the profitability of their business. She described COL's MOOCs for Development, which provide simple technology solutions, such as a basic mobile phone interface, social media integration and delivery in low bandwidth situations.
Ms Mannie spoke about the importance of helping women develop a combination of hard and soft skills to fully prepare them for today's demands.
Ms Shea noted the importance of resources and mentorship for young female entrepreneurs.
The two-day Summit brought together policymakers, accelerators, incubators, co-working spaces, educational institutions, funding groups and entrepreneurs to further advance gender equality in entrepreneurship.