An Enabler of Mobile Learning
Overview
Aptus is a low-cost device that allows educators and learners to connect to digital learning platforms and content without the need for grid electricity or Internet access.  This mini-PC requires only battery power which can be recharged via grid power or solar charger, as needed. It can host 64GB of educational digital content and facilitate interactive, virtual learning anywhere – whether in a remote rural village or on a vast university campus. The result is a "Classroom Without Walls" that can be set up within minutes and accessed by any learner with a laptop, tablet or mobile phone.
Design and Key Features
COL developed the original Aptus prototype by repurposing available commercial products to create a new learning concept and was launched in 2013. The design and functionality of Aptus has continued to evolve based on research, field trials and the deployment in many Commonwealth countries.
The latest Aptus (2021) is built on Raspberry Pi.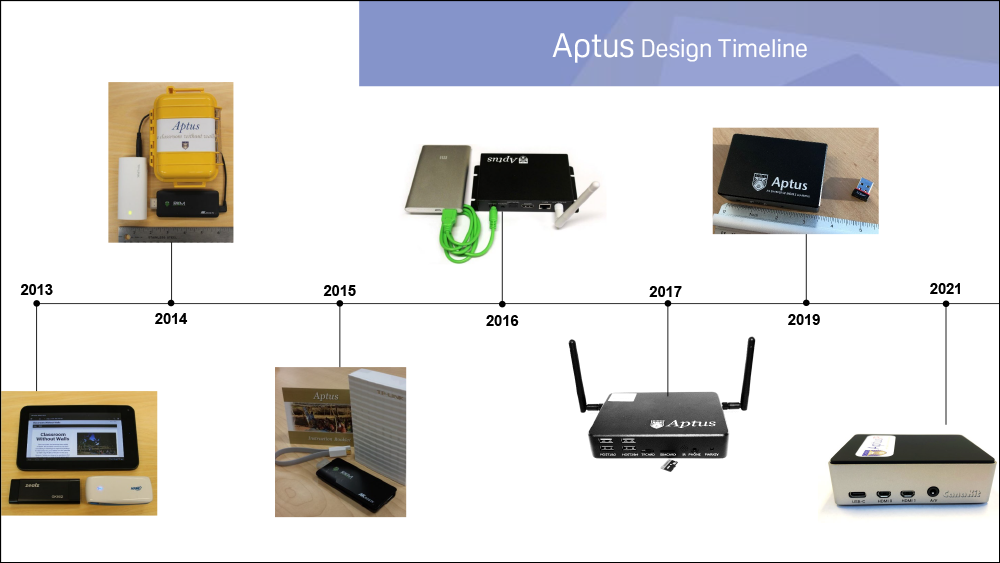 Deployment and Collaboration
Samoa, Ministry of Education (2018)
India, Mann Deshi Foundation (2016)
Fiji, Ministry of Education (2015)
Kiribati, Ministry of Education (2015)
Learn More
To learn more about Aptus, we invite you to visit OAsis, COL's Open Access Repository or contact us.