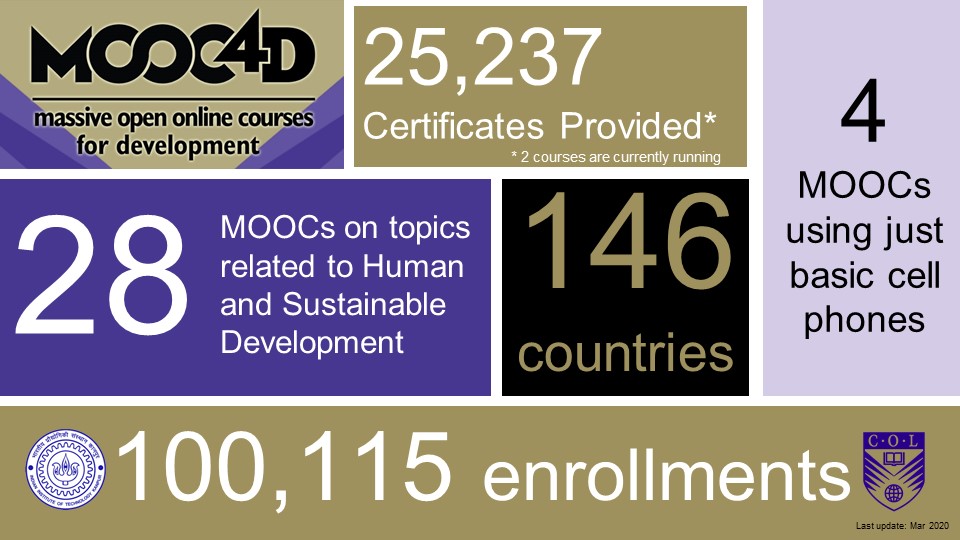 Above data as of March 2020
As part of COL's efforts to promote open and distance learning as a path to sustainable development, COL and the Indian Institute of Technology Kanpur (IITK) partnered to develop massive open online courses (MOOCs) that combined their expertise in agriculture and sustainable development, and computer engineering, respectively. The result is a range of MOOCs that serve a different purpose than those popularised in North America.
The idea of replicating the university experience to satisfy intellectual curiosity or to pursue a credential is not the focus of COL's MOOC courses. Instead, these MOOCs provide training and skill development with the intent of participants being able to apply knowledge and skills to solve pressing issues, primarily in the space of sustainable development (Perris, 2015).
A Collaborative Effort
COL's collaboration with IITK has led to the development and offering of a number of MOOCs and has also explored the usefulness of MOOCs in the agriculture sector, which has generally had a lower level of presence in technology-enabled learning or in the open educational resources (OER) paradigm.
The first MOOC on Mobiles for Development, offered in 2013, received the Open Education Award for Excellence 2015 – Open MOOC Category. It was followed in 2014 with a MOOC on MOOCs, which used the new beta version of the mooKIT platform. The first agMOOC, Information and Communications Technology (ICT) Basics, was delivered using the tested mooKIT platform and has been used by all of COL's collaborative MOOC offerings since, including a Technology-Enabled Learning (TEL) MOOC managed by COL's TEL initiative, a MOOC by the University of Malta's Institute of Tourism Studies and a MOOC on Climate Change in the Pacific, by the University if the South Pacific. One MOOC even took the form of an audio-only delivery via basic mobile phones. The MOOC on Horticulture was the first time that a course was blended successfully with a non-Internet technology on such a large scale.
COL has developed two policy guides with regards to MOOCs. In 2015, the first Policy Brief on MOOCs was distributed at the 19th Conference of Commonwealth Education Ministers. In 2016, in collaboration with UNESCO, COL published Making Sense of MOOCs: A Guide for Policy-Makers in Developing Countries, designed to raise general awareness amongst policy makers in developing countries as to how MOOCs might address their concerns and priorities, particularly in terms of access to affordable quality higher education and preparation of secondary school leavers for academic as well as vocational education and training.
In late 2018, Blockchain technology was successfully used to issue certificates to eligible participants in four MOOCs, partnered/offered by COL using the MOOC management platform, mooKIT. These courses included two agMOOC courses – Functional Foods: Concept, Technology and Health Benefits and Integrated Pest Management, the third offering of COL's Introduction to Technology-Enabled Learning and second offering of Life Skills – Level 2. The ID of the certificate on the Blockchain is mentioned in the PDF copy. It is like a URL that will take a user to the Blockchain where the original certificate can be viewed. An Open Source Blockchain was integrated into mooKIT and the codes that are available in the Open domain were suitably modified by a team of engineers at the Indian Institute of Technology Kanpur. Access is granted through an App called mooKIT Wallet. Bitcoins worth CAD90 were purchased by this team to integrate the test network to the Blockchain. The number of certificates can be as large as 2,500. That is the only cash expense involved in this particular endeavor to issue certificates using the Blockchain. We in COL do not own Bitcoins.
MOOCs Offered
agMOOCs (2015-)
MOOC on MOOC (2014)
MOOC by the Institute of Tourism Studies, University of Malta (2016)
Technology-Enabled Learning, Athabasca University (2016, 2017)
COL's collaborative MOOCs can be accessed at www.mooc4dev.org
How can I set up a MOOC?
We invite interested educational organisations in the Commonwealth to contact us.