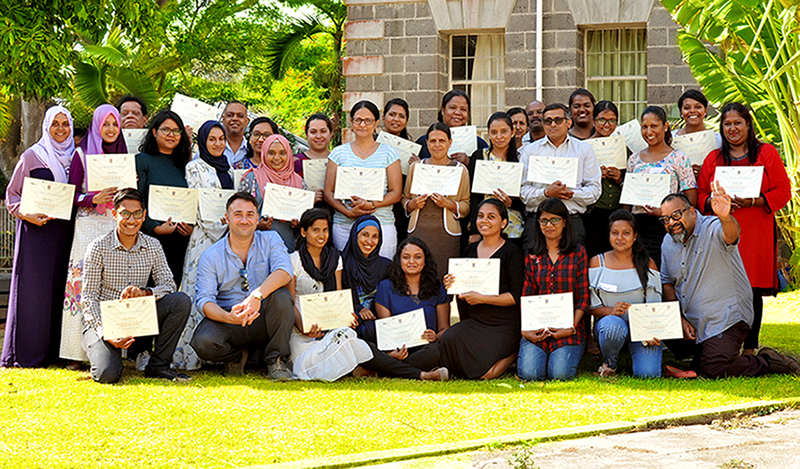 Small states represent 32* of the 56 Member Countries of the Commonwealth. While there are significant differences among these countries, most experience similar challenges in terms of access to quality post-secondary education. Formally launched in 2000, the Virtual University for Small States of the Commonwealth (VUSSC) is a network of small countries that work collaboratively to expand access to and improve the quality of post-secondary education in their countries.
VUSSC works with national institutions of Member Countries to build capacity and expertise in online collaboration, eLearning and information and communication technologies (ICT) in general. Participating educational institutions work together on the design, development, and delivery of post-secondary, skills-related courses and university-level programmes in areas that enhance their economic, financial, social and community growth. VUSSC also encourages the sharing and transfer of course content, learning materials and resources through the use of Creative Commons copyright licences. In this way, VUSSC increases the human resource capacity that enables small states of the Commonwealth to participate effectively in global economies and thrive as equal members of the world community.
VUSSC countries have specifically chosen to focus on the development of skills-related courses and programmes in areas prioritised by small countries such as sustainable agriculture, digital entrepreneurship, disaster management and tourism. Recently, in response to emerging environmental issues, VUSSC has integrated concepts such as climate change, sustainability resilience and the Blue Economy into courses and programmes. In addition, VUSSC supports training for disability practitioners and special education teachers to provide an enabling environment and better serve persons with disabilities who face excessive barriers to learning. VUSSC course materials are available freely for reuse and adaptation to the specific context of each country. They can be used in the offering of credit-bearing qualifications as well as strengthening educational capacity and access in Member Countries.
One unique characteristic of the VUSSC initiative has been the development of a Transnational Qualifications Framework (TQF). The VUSSC TQF helps to provide a "seal of quality." It is a means through which courses offered within the VUSSC environment can be understood and compared, thereby paving the way for exchange and transfer of courses, facilitating international recognition of small states' qualifications and improving labour mobility.
*Africa: Botswana, The Gambia, Eswatini, Lesotho, Mauritius, Namibia, Seychelles; Asia: Brunei Darussalam and Maldives; Caribbean: Antigua & Barbuda, The Bahamas, Barbados, Belize, Dominica, Grenada, Guyana, Jamaica, St.Kitts & Nevis, Saint Lucia, St. Vincent and the Grenadines, Trinidad & Tobago Pacific: Fiji, Kiribati, Nauru, Papua New Guinea, Samoa, Solomon Islands, Tonga, Tuvalu, Vanuatu; Mediterranean: Cyprus, Malta
Available at: Brochure