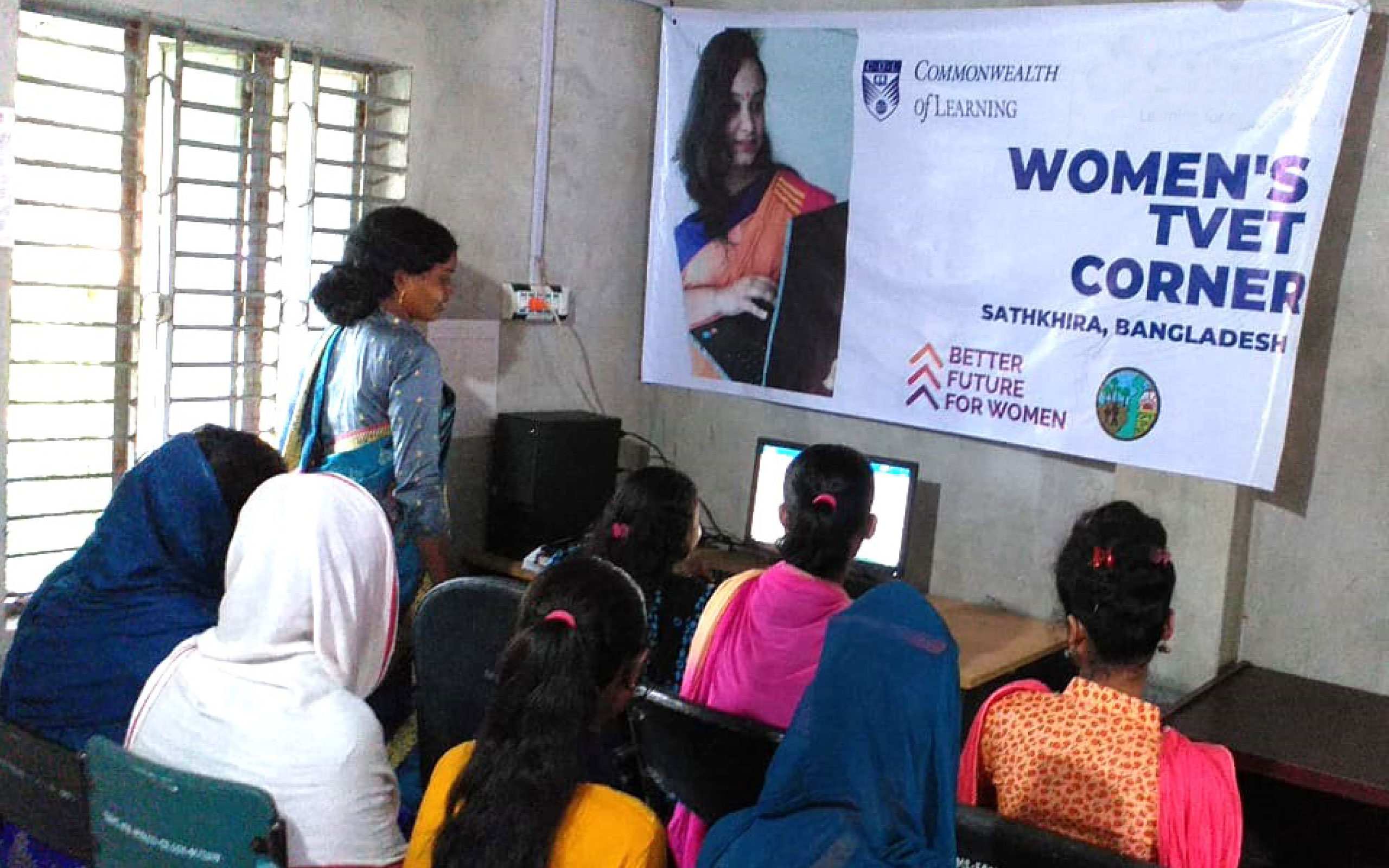 Reading Time:
5
min read
As part of its digital augmentation project, the Commonwealth of Learning (COL) is supporting Better Future for Women (BFW) Bangladesh to build institutional capacity to adopt open, distance and eLearning (ODeL) systematically through augmenting available technologies and capacities.
By way of this project, BFW will enhance its capacity to design, develop, digitise and deliver online TVET courses to increase access of at least 3,000 female youth to TVET skills as well as employment and livelihoods opportunities in rural areas of Bangladesh – specifically the Sundarbans Mangrove Forest areas in the country's southwestern coastal region. Women's technology-enabled TVET Corners have been established at the Sundarbans Adibasi Munda Sangstha (SAMS) and the Rural Reconstruction Foundation (RRF) premises in Sathkhira and Jashore districts to provide greater access.
The background story
Female youth living in the remote Sundarbans mangrove areas face a disadvantage when it comes to attending vocational training. Due to climate change, natural disasters such as cyclones, flooding and waterlogging are common occurrences in these areas leading to impacts and shutdowns on educational and training facilities.
As a result of this project, vocational training opportunities for female youth living in the Sundarbans mangrove forest areas is no longer a dream. The TVET Corners at SAMS and RRF are being equipped with computer and internet connectivity, allowing women to access skills training online for the first time.
Sumitra Rani Munda, a 25-year-old female youth living in the Sundarbans Mangrove region, commented,
"The Women's TVET Corner has opened up a world of learning and skill development opportunities to us. Through the Women's TVET Corner recently established in my village, I have found many open and distance learning skill development courses in the local language that I am looking forward to attending."
Sumaiya Shimu, Chairman of Better Future for Women, added,
"While the Sundarbans mangrove forest acts as a buffer zone for the southern coastal population, reducing the impact of climate change, rising human pressure on the forest has a negative impact on the forest. Due to a lack of viable economic alternatives, the local population continues to rely on unsustainable forest resource extraction. Access to skills training has the potential to enable female youth from local communities, including the Munda indigenous population, to pursue alternative livelihoods that are sustainable and in line with the modern economy."
COL partner, BFW, has set up two Women's TVET Corners in mangrove villages in the districts of Khulna and Satkhira in 2022. BFW collaborates with local community-based organisations and TVET stakeholders to extend digitised skill training courses to women by strengthening their Information and Community Technology (ICT) infrastructure, including the provision of green and renewable energy sources.