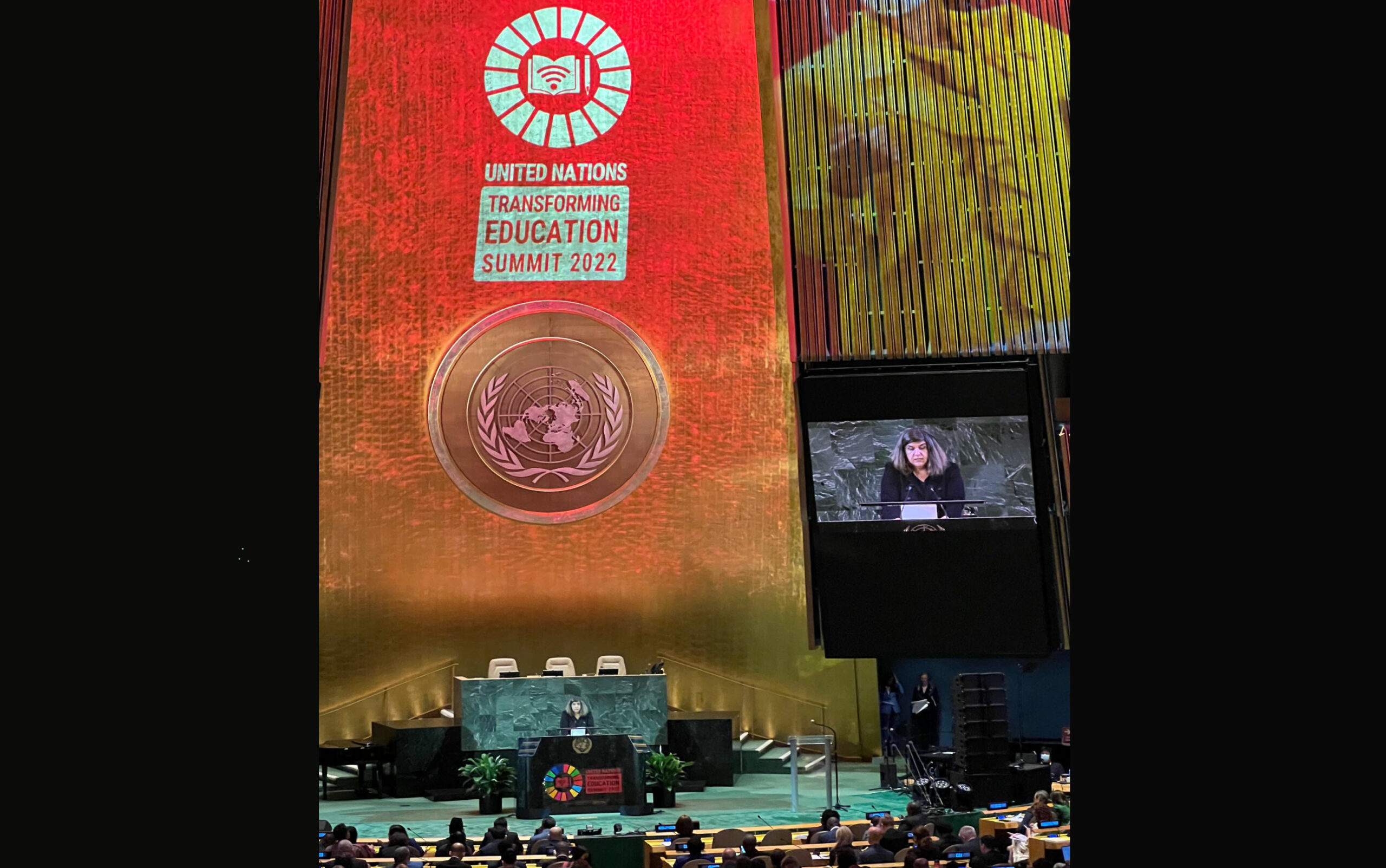 Reading Time:
5
min read
by Mr Dave Jackson
Communications Manager
"Education for all and education now"
"Transforming Education, Building our Future." That was the primary theme at the recent UN Transforming Education Summit 2022, held from September 16 – 19, at the United Nations General Assembly, New York.
The Summit was convened in response to the existential global crisis in education – one of equity and inclusion, quality and relevance. Over 130 countries heeded a call to reboot education systems, offering new hope to world's children for a better future.
In a UN-prepared statement, "Often slow and unseen, this crisis is having a devastating impact on the futures of children and youth worldwide. The Summit provides a unique opportunity to elevate education to the top of the global political agenda and to mobilize action, ambition, solidarity and solutions to recover pandemic-related learning losses and sow the seeds to transform education in a rapidly changing world."
Professor Asha Kanwar, President and CEO of COL, in attendance for the Summit, reaffirmed the UN's commitment to prioritise education said that, "The Commonwealth of Learning supports the UN's call to action to address the learning crisis that is impacting millions of students around the world. COL will complement global efforts by harnessing the potential of distance learning and technologies to provide equitable quality education at lower costs and with a lower carbon footprint. The Secretary General of the UN convened the 'Transforming Education Summit' held on the 16, 17 and 19 September just ahead of the annual UN General Assembly meetings to enable Heads of Government to attend. The objective was to put education at the top of the global political agenda and secure government commitments to invest in education as a matter of priority."
UN Secretary-General António Guterres' Vision Statement laid out a clear path for education in the 21st century and issued call to action and vision for a way forward. It serves as an input to negotiations in preparation of the "Summit of the Future" which will be held at the UN General Assembly in 2024.
On the opening day of the three-day Summit, youth advocates shared a Youth Declaration with the Secretary-General, laying out their collective recommendations to policymakers on the transformation they want to see, along with their commitments for action on education.
The UN Transforming Education Summit 2022 was organised to decisively deal with a crisis in education that has seen some 147 million students missing over half of their in-person instruction, since 2020, particularly as a result of the Covid-19 pandemic.