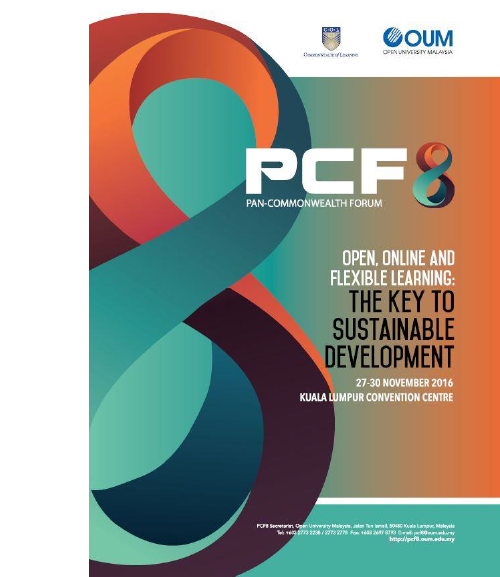 The Eighth Pan-Commonwealth Forum (PCF8) on Open Learning was held in Kuala Lumpur, Malaysia from 27-30 November 2016 in partnership with the Open University Malaysia (OUM). The Forum brought together the best minds in open and distance learning (ODL) to discuss issues of common interest, exchange ideas and explore best practices. Over 500 registered participants from 59 countries, including 49 Commonwealth Member States attended.
The Kuala Lumpur Declaration was presented on November 30, 2016 at the Closing Ceremony of PCF8, Kuala Lumpur Convention Centre, Kuala Lumpur, Malaysia.
Keynote presentations, open and closing remarks and presented papers can all be found on OAsis, COL's institutional online repository.
Archived live-stream videos from PCF8 can be found on COL's YouTube channel.
Daily Newsletters: Day 1, Day 2, Day 3
A summary of PCF8 appears in the March 2017 edition of COL's newsletter, Connections.
Theme
Open, Online and Flexible Learning: The Key to Sustainable Development
Sub-themes:
Quality and Equity in Learning (Quality Assurance Frameworks, Accreditation, Certification, Benchmarking, Ranking)
Access and Inclusion (e-Learning, Massive Open Online Courses(MOOCs) Public-Private Partnership, Equitable Educational Opportunities, Policies)
Efficiency and Effectiveness (Business Models, Comparative Studies)
Technology and Innovation (Teaching and Learning, Mobile Learning, Collaborative Learning, MOOCs, Open Educational Resources (OER).
Presenters
Asa Briggs Lecture
Sir John Daniel, O.C., former President & CEO of Commonwealth of Learning
Keynote Speakers
Prof Dato' Dr Mansor Fadzil, President & Vice-Chancellor of Open University Malaysia
Mr Martin G. Bean CBE, Vice-Chancellor & President, RMIT, Australia
Dr Phumzile Mlambo-Ngcuka, United Nations Under-Secretary-General & Executive Director of UN Women
Dr David A. Wiley, Chief Academic Officer, Lumen Learning
Honorary Fellows
Mr Martin Bean
Professor Rajesh Chandra
Dr Luz Marina Longsworth
Professor Naveed Akhtar Malik
Professor Tolly Salvator Augustin Mbwette
The Honourable Professor Naana Jane Opoku-Agyemang
Ms Chetna Vijay Sinha
Winners of the Excellence in Distance Education Awards (2014-2016)
Award of Excellence for Institutional Achievement
National Institute of Open Schooling, India
Award of Excellence for Open and Distance Education Materials
Category A: Print, electronically delivered materials and/or other "low-end" media materials, such as audio/video tapes, or a combination of these.
Open University Malaysia, Malaysia
Category B: Design and development of study materials through the innovative use and re-use of Open Educational Resources (OER)
Universiti Kebangsaan Malaysia, Malaysia
Award Recognising Distance Learning Experience
Category A: Degree Granting Programme
Category B: eLearning Experience in Difficult Circumstances
Forum Partners
Association of Commonwealth Universities
Commonwealth Foundation
Forthright Construction SDN BHD
GL Jaya Print SDN BHD
Multimedia Technology Enhancement Operations (METEOR)
National Institute of Open Schooling (NIOS)
National University of Nigeria (NOUN)
Olympia Diary (Malaysia) SDN BHD
Percetakan Sri Jaya
The Open University UK
University of London International Programmes