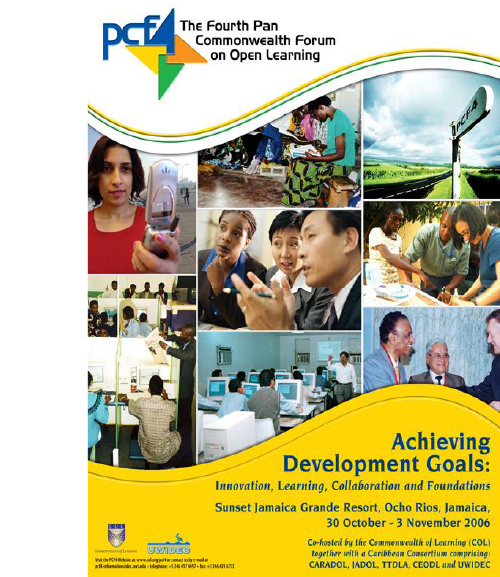 The Fourth Pan-Commonwealth Forum on Open Learning (PCF4) was held in Ochos Rios, Jamaica from 30 October – 3 November 2006, in partnership with the Caribbean Consortium comprising of CARADOL, JADOL, TTDLA, CEODL and UWIDEC. PCF4 attracted more than 500 people from 64 countries and various international organisations.
A summary description of PCF4 appears in the February 2007 edition of COL's newsletter, Connections.
Theme
Achieving Development Goals
Sub-themes:
Collaboration
Foundations
Innovation
Learning
Presenters
Asa Briggs Lecture
Mr Winston A. Cox, Alternate Executive Director for the Bahamas, Barbados, Guyana, Jamaica and Trinidad & Tobago, Inter-American Development Bank
Keynote Speakers
Sir John Daniel, President and Chief Executive Officer, Commonwealth of Learning
Professor Penina Mlama, Executive Director of the Forum for African Women Educationalists (FAWE), member of COL's Board of Governors, Professor of Theatre Arts at the University of Dar es Salaam in Tanzania
Dr Sugata Mitra, Senior Vice President (R&D), NIIT Limited, India
Honorary Fellows
Dr Felicity Binns
Dato' Dr Gajaraj Dhanarajan
The Honourable Zobaida Jalal
Father T.V. Kunnunkal
The Honourable Fiamé Naomi Mata'afa
HE Professor Michael Omolewa
The Honourable Burchell Whiteman
Winners of the Excellence in Distance Education Awards (2005-2006)
Award of Excellence for Institutional Achievement
The University of the South Pacific, Fiji
Botswana College of Distance and Open Learning, Botswana
Netaji Subhas Open University, India
Award of Excellence for Open and Distance Education Materials
Category A: print or other "low-end" media materials.
Advanced Certificate in Education in the Field of Learners with Special Educational Needs – School of Education, University of the Witwatersrand, South Africa
Learning Skills for Open and Distance Learners – Open University Malaysia.
A Facilitation Handbook for Women's Learning Group Facilitators – Women in Fishing Industry Project (WIFIP), Education and Development Trust, Kenya.
Honourable Mention: Environmental Education Modules – Centre for Environmental Education, India
Category B: interactive, electronically delivered materials.
PharmaLearn, Anticoagulation – Faculty of Pharmacy and Pharmaceutical Sciences, University of Alberta, Canada.
NAMCOL Online, Welcome to the World of Physical Science Grade 12 – Namibian College of Open Learning (NAMCOL)
Indigenous Approaches to Healing and Helping – School of Social Work, University of Victoria, Canada
Honourable Mention: French as a Second Language – Alberta Distance Learning Centre, Canada
Award Recognising Distance Learning Experience
Category A: Degree Granting Programme
Ms. Neelam Narayan, Suva, Fiji (The University of the South Pacific)
Category B: eLearning Experience in Difficult Circumstances
Ms. Najwa Qaisy, DM Manager, Iraq Deligation, International Federation of the Red Cross and Red Crescent Societies (Baghdad, Iraq)
Honourable Mentions:
Dr. Bernardino Pereira Teixeira, Leprosy Programme Officer, World Health Organization (Luanda, Angola)
Dr. Pingping Zhang, National Programme Officer, World Health Organization (Beijing, China)
Forum Partners
The William and Flora Hewlett Foundation
Association of Commonwealth Universities
Athabasca University
Cable and Wireless
Cambridge College
Caribbean Development Bank
CARIMAC
Technical Centre for Agricultural and Rural Cooperation ACP-EU
CUPIDE
FLOS Caribbean
Indira Gandhi National Open University
Ministry of Education, Youth Affairs & Sports, Barbados
Smart Technologies
The Open University of Hong Kong
UNDP, Barbados
UNESCO
UNESCO BREDA
Universal Basic Education Council
University of London
Wawasan Open University College, Malaysia
World Intellectual Property Organization