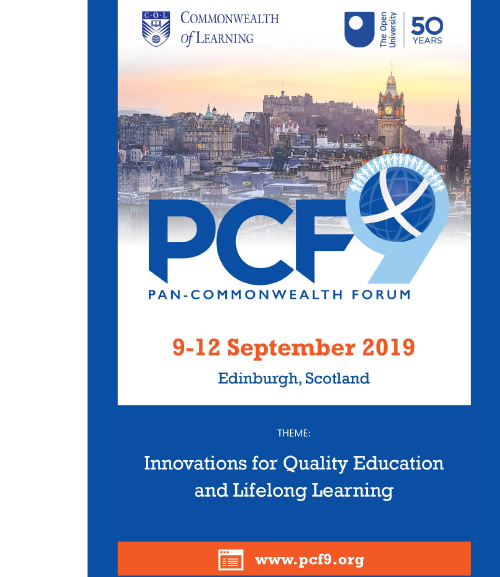 The Ninth Pan-Commonwealth Forum (PCF9) on Open Learning was held in Edinburgh, Scotland, United Kingdom from 9-12 September 2019 in partnership with The Open University, United Kingdom. The Forum brought together 541 policy makers, practitioners and thought leaders from 61 countries.
Forum partners from over 60 countries believe that it is possible to significantly accelerate progress towards the aim and targets of SDG4 by prioritising the collective actions noted in the Edinburgh Statement, proposed on September 12, 2019 at the Closing Ceremony of PCF9, BT Murraryfield Stadium, Edinburgh, UK.
Daily Newsletters: Day 1, Day 2, Day 3
Archived live-stream videos from PCF10 can be found on COL's YouTube channel.
A summary of PCF9 appears in the November 2019 edition of COL's newsletter, Connections.
Theme
Innovations for Quality Education and Lifelong Learning
Sub-themes:
Employability
Equity and Inclusion
Opening up Education
Technology
Presenters
Asa Briggs Lecture
Lord Puttnam of Queensgate, British film producer, educator, environmentalist and member of the House of Lords
Keynote Speakers
The Honourable Danny Faure, President of the Republic of Seychelles
Sugata Mitra, former Professor and Principal Research Investigator in the School of Education, Communication and Language Sciences at Newcastle University, UK
Marc Prensky, founder and Executive Director of The Global Future Education Foundation and Institute
Rose Luckin, Professor of Learner Centred Design at UCL Knowledge Lab
Honorary Fellows
Professor Abdalla Uba Adamu
Ms Anne Gaskell
Professor Datuk Dr Asma Ismail
Mr Kamaraj Keppanan
Professor Mandla Makhanya
Professor Nageshwar Rao
Professor Clement Sankat
Dr Linda Sissons
Winners of the Excellence in Distance Education Awards (2014-2016)
Award of Excellence for Institutional Achievement
Yashwantrao Chavan Maharashtra Open University, India
Award of Excellence for Open and Distance Education Materials
Category A: innovations in print, electronically delivered materials or other low-cost media materials, such as audio, video, or a combination of these.
Open University Malaysia, Malaysia
Category B: open educational resources (OER) – innovative creation and adaptation.
Athabasca University, Canada
Open Education Resource Foundation, New Zealand
Award of Excellence in a Distance or Online Learning Experience
Ms Sakshi Kumari, India
Mr Jima Ngei, Nigeria
Forum Sponsors and Partners
Association of Commonwealth Universities
Australia Government – Department of Foreign Affairs and Trade
Commonwealth Foundation
National Institute of Open Schooling (NIOS)
National University of Nigeria (NOUN)
New Zealand Foreign Affairs and Trade
Open Impact Conference
Open Polytechnic New Zealand
University of London
William and Flora Hewlett Foundation
Infosys
International Council for Open and Distance Education
UNESCO Institute for Lifelong Learning
UNESCO Institute for Information Technologies in Education