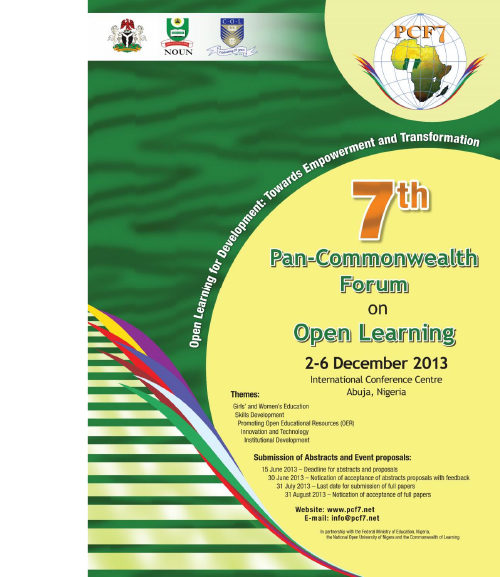 COL's Seventh Pan-Commonwealth Forum on Open Learning (PCF7) was held in Abuja, Nigeria from 2 – 6 December 2013, in partnership with the Federal Ministry of Education and the National Open University of Nigeria (NOUN). Over 600 policy makers and practitioners from 49 countries, including 42 Commonwealth Member States, attended this event that enabled participation, knowledge sharing, learning and networking.
PCF7 daily newsletters are available. In addition, a summary of PCF7 appears in the March 2014 edition of COL's newsletter, Connections.
Theme
Open Learning for Development: Towards Empowerment and Transformation
Sub-themes:
Girls' and Women's Education
Skills Development
Promoting Open Educational Resources (OER)
Innovation and Technology
Institutional Development
Presenters
Asa Briggs Lecture
Professor Alan Tait, Editor-in-chief of COL's new Journal of Learning for Development and Professor of Distance Education and Development, Open University, UK.
Keynote Speakers
Ms Jenny Glennie, Founding Director of the South African Institute for Distance Education (SAIDE);
Dr Rory McGreal, UNESCO/COL Chair in OER, Director of the Technology Enhanced Knowledge Research Institute
The Honourable Ms Margaret Mensah-Williams
Professor Tim Unwin, Secretary General, Commonwealth Telecommunications Organisation
Professor Julius Amioba Okojie, Executive Secretary, National Universities Commission, Nigeria
Her Excellency Ambassador Mrs Mariam Yalwaji Katagum, COL Board member, Permanent Delegate to UNESCO for Nigeria
Honorary Fellows
Danny Faure
Olugbemiro Jegede
Carol Kidu
Olabisi Kuboni
Wong Tat Meng
Caroline Seelig
Daniel Tau
James Taylor
Winners of the Excellence in Distance Education Awards (2011-2013)
Award of Excellence for Institutional Achievement
Krishna Kant Handiqui State Open University (KKHSOU), India
Wawasan Open University (WOU), Malaysia
Award of Excellence for Open and Distance Education Materials
Category A: materials in print, audio or video, or a combination of these
Collaboration and Mentoring in Educational Environments, which forms part of the Master of Education in Distance Education of the Centre of Distance Education – Athabasca University, Canada
Get Ahead Skills, which forms part of the Certificate in Career and Self Development, and successful learners are also awarded National Certificate in Employment Skills – The Open Polytechnic of New Zealand (TOPNZ), New Zealand
Language through an African Lens, which forms part of the Bachelor of Arts programme offered by the College of Human Sciences – University of South Africa (UNISA), South Africa
Category B: interactive, electronically delivered materials.
ICT in Education course which forms part of the Masters in Education programme of the School of Education, Languages and Communication – Wawasan Open University (WOU), Malaysia
Award Recognising Distance Learning Experience
Category B: eLearning Experience in Difficult Circumstances
Ms. Dania Al Yamani, Senior Refugee Status Determination case worker in the UNHCR office in Damascus, Syria
Forum partners
Microsoft Africa
UNICEF
The Association of Commonwealth Universities
Commonwealth Foundation
Forum for Agricultural Research in Africa (FARA)
The Open University
UNESCO
University of London