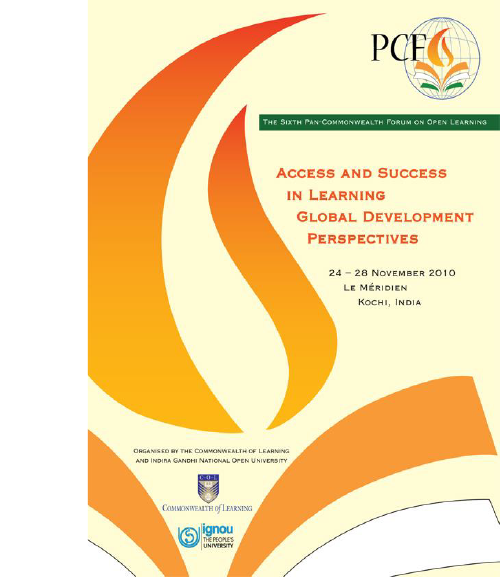 The Sixth Pan-Commonwealth Forum on Open Learning (PCF6) was held in Kochi, Kerala), India from 24 – 28 November 2010, in partnership with India's Indira Gandhi National Open University. More than 600 delegates from 70 countries attended.
Six PCF6 daily newsletters produced. In addition, a summary of PCF6 and its results appears in the February 2011 edition of COL's newsletter, Connections.
Theme
Access & Success in Learning: Global Development Perspectives
Sub-themes:
Community Development
Formal Education
Social Justice
Skill Development
Presenters
Asa Briggs Lecture
Dr Shashi Tharoor
Keynote Speakers
Professor Emeritus Tan Sri Anuwar Ali, Vice-Chancellor and President, Open University Malaysia
The Honourable Steve Maharey, Vice-Chancellor, Massey University, New Zealand
Dr Caroline Seelig, Chief Executive, The Open Polytechnic of New Zealand
Ms Chetna G Sinha, Founder/Chair, Mann Deshi Foundation
Honorary Fellows
Professor M. Aminul Islam
Dr Roger Mills
The Honourable Naledi Pandor
Ms. Peecheeta Spencer
Professor John Tarrant
Winners of the Excellence in Distance Education Awards (2009-2010)
Award of Excellence for Institutional Achievement
Open University of Malaysia, Malaysia
Polytechnic of Namibia, Namibia
Memorial University of Newfoundland, Canada
Award of Excellence for Open and Distance Education Materials
Category A: materials in print, audio or video, or a combination of these
Botswana Technical Education Programme Certificate Course – The Human Body – Francistown College of Technical & Vocational Education, Botswana
Category B: interactive, electronically delivered materials.
Diploma in Web & Multimedia Development – Virtual Centre for Innovative Learning – University of Mauritius
Award Recognising Distance Learning Experience
Category A: Award for Distance Learning Experience in a Degree Granting Programme
Prof. Chan Lai Keng, Malaysia
Category B: Award for an eLearning Experience in Difficult Circumstances
Mr. Osman Ali Gema Eshag, Sudan
Forum Partners
The Australian Agency for International Development (AusAID)
UNESCO
AISECT
The Open University (U.K.)
University of London
Commonwealth Secretariat
University World News
Digital Learning
National Institute of Open Schooling (NIOS)