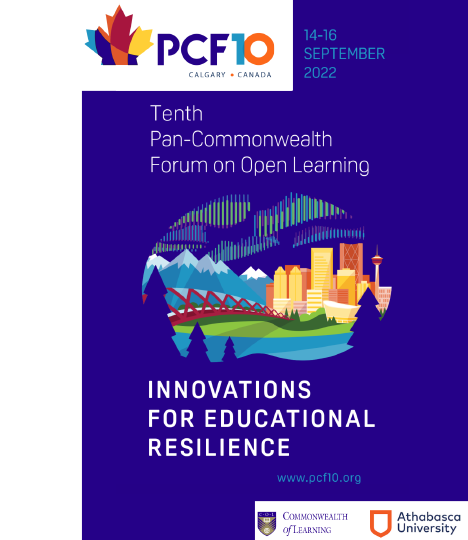 The Tenth Pan-Commonwealth Forum (PCF10) on Open Learning was held in Calgary, Canada from 14-16 September 2022 in partnership with Athabasca University – Canada's Online University. This first-ever hybrid Forum brought together nearly 500 policy makers, practitioners and thought leaders from 53 countries (42 Commonwealth countries) and boasted a gathering of more ministers from more Commonwealth nations than ever before.
Forum partners from all four regions of the Commonwealth, with a total of about 2.5 billion people – believe that it is possible to significantly accelerate progress towards the aim and targets of the Sustainable Development Goals (SDGs) in general, and (SDG4) in particular, to innovate for more resilient education systems and to address at least some of the challenges of climate change by prioritising collective actions noted in the Calgary Communique, proposed on 16 September, 2022 at the Closing Ceremony of PCF10.
Archived live-stream videos from PCF10 can be found on COL's YouTube channel.
A summary of PCF10 appears in the November 2022 edition of COL's newsletter, Connections.
Theme
Innovations for Educational Resilience
Sub-themes:
Building resilience
Fostering lifelong learning
Inspiring innovations
Promoting equity and inclusion
Presenters
Asa Briggs Lecture
Prof. Tim Blackman, Vice-Chancellor, The Open University, United Kingdom
Keynote Speakers
Hon. Buti Manamela, Deputy Minister of Higher Education and Training, South Africa
Dr. Rolph Payet, Executive Secretary, Secretariet of the Basel, Rotterdam and Stockholm Conventions
Mr. Mohammed Rezwan, Founder and Executive Director, Shidhulai Swanirvar Sangstha, Bangladesh
Professor Olaf Zawacki-Richter, Professor of Educational Technology, Dean of the Faculty of Education and Social Sciences, and Director of the Center for Open Education Research (COER), Institute of Education, University of Oldenburg
COUNTRY SHOWCASE: Claudette McGowan, Global Executive Officer, TD Bank, Canada
Honorary Fellows
Dr Tony Bates
Hon Mrs Leela Devi Dookun-Luchoomun
Mr Maxim Jacques Jean-Louis
Ambassador Mariam Yalwaji Katagum
Hon Priya D. Manickchand
Mr Mohammed Rezwan
Professor Alan Tait
Professor Dr Ami Upadhyay
Winners of the Excellence in Distance Education Awards (2020-2022)
Award of Excellence for Institutional Achievement
The Open Polytechnic of New Zealand
Award of Excellence for Innovations in Distance and Online Learning
Dr. Kaushal Kumar Bhagat, Assistant Professor, Advanced Technology Development Centre, Indian Institute of Technology Kharagpur
Forum Sponsors and Partners
Association of Commonwealth Universities
Australia Government – Department of Foreign Affairs and Trade
Botswana Open University
Namibia College Of Open Learning
National Institute of Open Schooling
National University of Nigeria
Open Polytechnic New Zealand
Open University Malaysia
The Open University, UK
University of London
Wawasan Open University