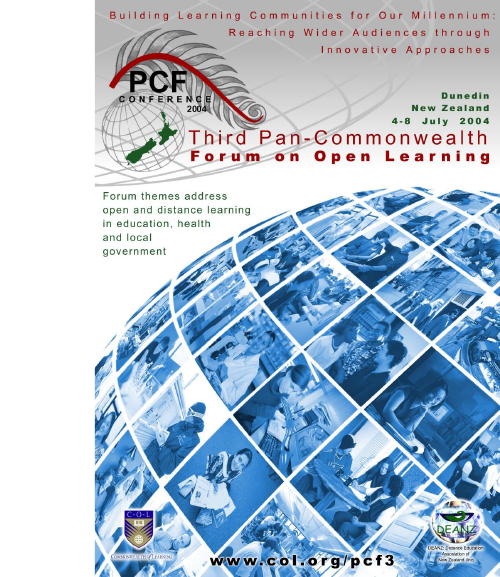 The Third Pan-Commonwealth Forum on Open Learning (PCF3) was held in Dunedin, New Zealand, from 4 – 8 July 2004, in partnership with the Distance Education Association of New Zealand (DEANZ) and the Government of New Zealand. There were 412 registered participants which included several governmental ministers, dignitaries and educationalists from 43 Commonwealth nations.
A summary description of PCF3 appears in the September 2004 edition of COL's newsletter, Connections. An Evaluation Report: Executive Summary and Highlights is also available.
Theme
Building Learning Communities for Our Millennium: Reaching Wider Audiences Through Innovative Approaches
Sub-themes:
Education: The development and delivery of technology mediated learning and teaching using open and distance learning strategies in the sectors of pre-school, primary, secondary, post-secondary, adult and tertiary education.
Health: The use of open and distance learning and technology mediated strategies for the provision of training in the health, agriculture and allied professions.
Local Government: The use of open and distance and technology mediated learning strategies to enhance practical knowledge and skills for the development of local government and public infrastructure.
Within each sub-theme, an emphasis on Latest developments, Best Practice, Emerging Issues and Research.
Presenters
Asa Briggs Lecture
Sir Shridath ("Sonny") Ramphal, former Commonwealth Secretary-General (1975-1990) and former Foreign Minister of Guyana
Keynote Speakers
Mrs Shona Butterfield, TEC Commissioner
Mr Walter Erdelen, Assistant Director-General for Natural Sciences, UNESCO
The Honourable Mrs Ann Therese Ndong-Jatta, Secretary of State for Education, The Gambia
Professor Russell Bishop, Foundation Professor and Assistant Dean, Maori Education, School of Education, University of Waikato.
Honorary Fellows
Ms Janet Jenkins
Professor Peter E. Kinyanjui
Professor Badri N. Koul
Dr H. Ian Macdonald, O.C.
Professor Vasireddy Sivalinga Prasad
Winners of the Excellence in Distance Education Awards (2003-2004)
Award of Excellence for Institutional Achievement
The Open Polytechnic of New Zealand, New Zealand
University of Southern Queensland, Australia
Award of Excellence for Open and Distance Education Materials
Bachelor of Management in Public Policy – New Guinea Open College, University of Papua New Guinea
Understanding Children – Centre for Widening Participation of The Open University, UK.
RACEROCKS.COM – Lester B. Pearson College of the Pacific
Award Recognising Distance Learning Experience
Ms. Swati Wankhede, Zilla Parishad Primary School, India
Forum Partners
Auckland University of Technology
British Council
Canadian International Development Agency
Commonwealth Secretariat
Global Knowledge Partnership
Ministry of Education New Zealand
UNESCO New Zealand