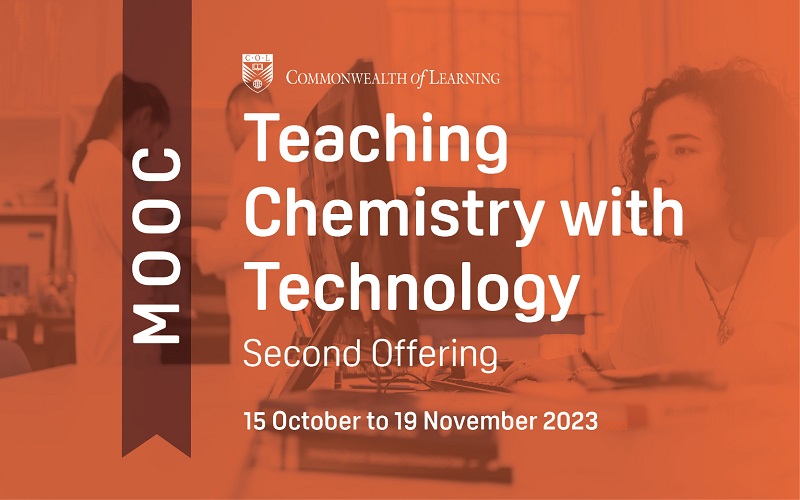 Registration is now open for the second iteration of the MOOC on Teaching Chemistry with Technology (TCT). In this course, participants will delve into the effective utilisation of open-access physics education technology (PhET) Interactive Simulation software for enhancing the teaching of chemistry. Widely embraced by educators worldwide, PhET simulations present valuable technology-enabled teaching tools that greatly enrich the classroom experience.
Throughout the course, the participants will explore instances of active learning and simulations, both in online and offline contexts. These pedagogical approaches effectively engage learners in the realm of chemistry education. Furthermore, the course will provide unique opportunities for live interactions with distinguished experts in chemistry and pedagogy. These sessions will adeptly guide participants in mastering the art of using PhET simulations within their teaching practices.
This mobile-responsive course is accessible to anyone, regardless of location. The TCT MOOC is tailored to benefit teachers, student teachers, teacher educators and instructional designers. Its primary aim is to aid in the meticulous planning and execution of technology-enhanced chemistry lessons and related assessments.
Upon successful completion of the course, participants will be eligible to receive either a 'Certificate of Completion' or a 'Certificate of Participation,' both of which are offered at no cost.
Please note: This comprehensive five-week MOOC will start on 15 October 2023.
For more details regarding the course and the registration process, please visit the official website: https://www.mooc4dev.org/tct2
You can also download the course brochure from this link: https://www.mooc4dev.org/sites/default/files/2023-08/tct2-brochure.pdf
Details:
Length of the Course: 5 Weeks
Schedule: 15 October 2023 to 19 November 2023
Workload: 3 to 5 hours per week
Level: Introductory
Language: English
Prerequisites: None