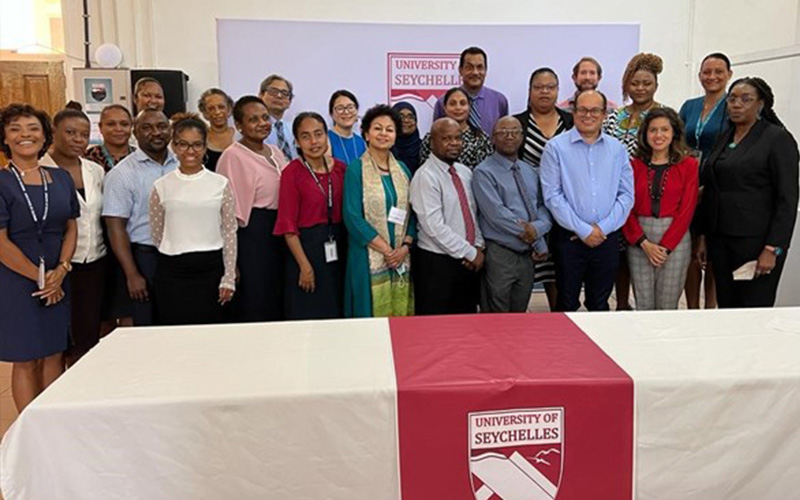 Reading Time:
3
min read
Members of COL's high-level panel on climate change and education visited the James Michael Blue Economy Research Institute (BERI) at the University of Seychelles (UniSey) to discuss a proposal on an online course on Climate Literacy for All.
Vice Chancellor of UniSey, Ms Joëlle Perreau welcomed the delegates led by  Professor Asha Kanwar and expressed her sentiments about the strong collaboration between the two institutions. Dr Justin Valentin, Seychelles Minister of Education, was also present.
Ms Perreau highlighted multiple programmes on offer at UniSey that COL has helped develop, including the Master of Educational Leadership, Commonwealth MBA/MPA and the MOOC on blue economy. Senior staff at UniSey also shared their appreciation for a training that they received on ICT Leadership for Women and Girls provided by COL.
Faculty members of BERI provided valuable input on the draft outline of the course and related concept note. These included a need for having flexible routes to localize the course content, use of online training to identify master trainers and local champions for climate change action, and addition of a module to the course on climate justice, which may include socio-economic aspects of climate change.
Dr Sanjaya Mishra, COL Director of Education Sector, said that the use of distance and online learning would be an out-of-the-box approach to reaching millions for their own education on scientific and social issues affecting our planet.
Professor Asha Kanwar said 'the development of a short course on climate literacy that can be easily adapted and adopted by others is an urgency. We are happy to find expertise at UniSey to collaborate with on developing this course.'