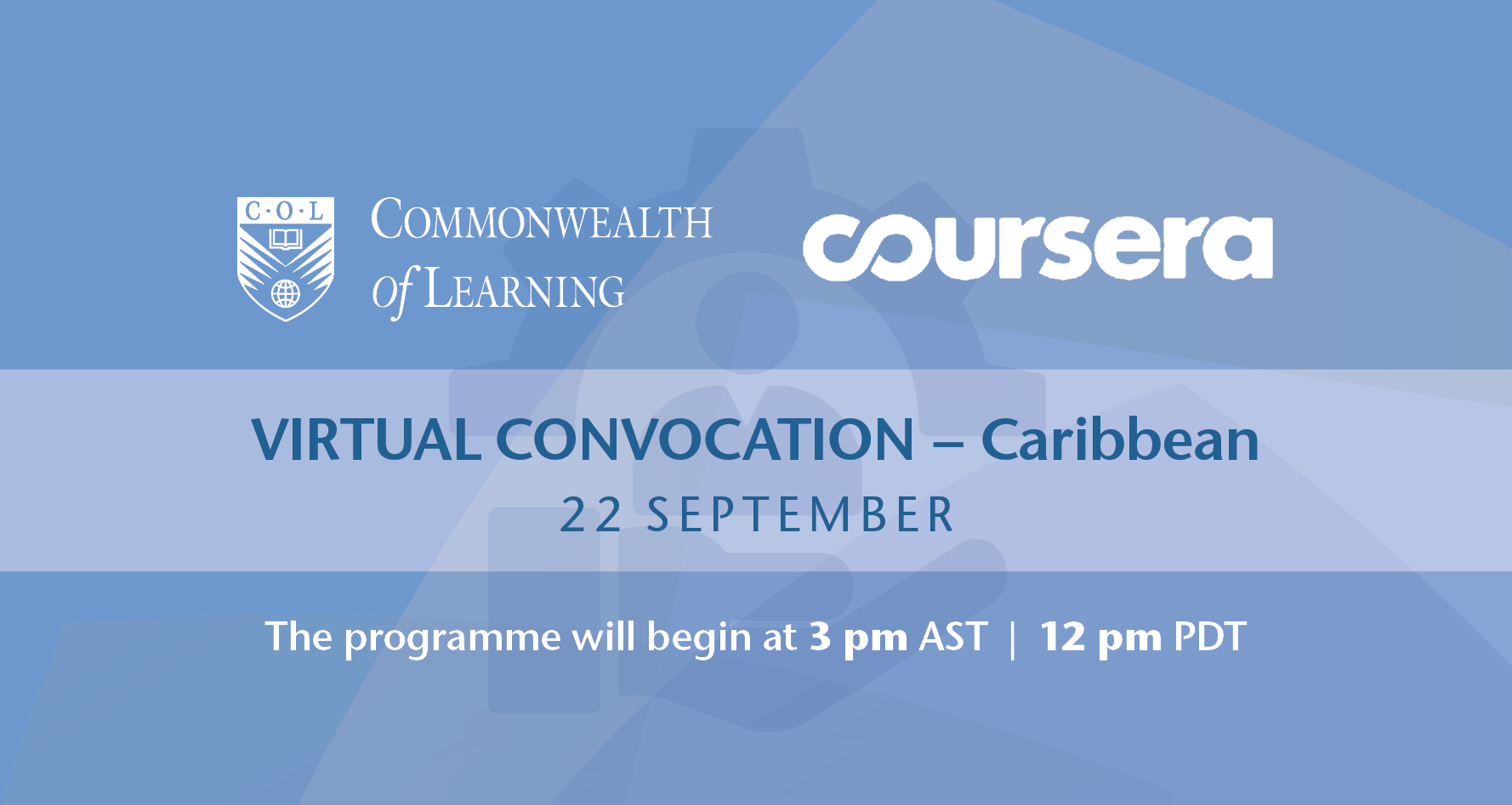 Reading Time:
5
min read
22 September 2020
3 pm AST/ 12 pm PDT
17 September 2020, Burnaby, Canada – Recognising the unique opportunity to boost their employability in the face of economic disruptions caused by COVID-19, thousands of learners from the Caribbean joined the COL-Coursera Workforce Recovery Initiative over the past four months. On 22 September, the two partners will host a virtual convocation to recognise the achievements of the first cohort of 3,000 learners who have successfully completed their coursework.
COL President and CEO Professor Asha Kanwar and Mr Jeff Maggioncalda, CEO of Coursera, will be joined by Honourable Colin E. Jordon, Minister of Labour and Social Partnership Relations, Barbados , Honourable Priya Manickchand, Minister of Education, Guyana, Honourable Emmalin Pierre, Minister of Education, Human Resource Development, Religious Affairs and Information, Grenada and Honourable Dr. Gale T. C. Rigobert, Minister of Education, Innovation, Gender Relations and Sustainable Development, St. Lucia in celebrating these graduates.
Professor Kanwar noted: "The COL-Coursera Workforce Recovery Initiative has offered the chance of a new beginning to tens of thousands across the Commonwealth. Given that these are nations with small populations, the uptake from the Caribbean region has been unprecedented. Ministers have been the driving force behind this initiative, taking full advantage of this chance to reskill their human resources."
"It is critical that impacted workers in the Caribbean have a chance to learn job-relevant skills that open up new employment opportunities. We are honoured to partner with the Commonwealth of Learning to make that possible for many youth across the region," said Mr Maggioncalda. "This is just the beginning of our long-term commitment to helping citizens prepare for a digital future."
Honourable Colin Jordan stated: "The Commonwealth of Learning working with Coursera has provided an opportunity that aligns with my Government's objective of ensuring that our people remain engaged during this pandemic period, and that they and the country can emerge better equipped to move forward."
Honourable Priya Manickchand mentioned: "This partnership with COL and Coursera helps us to provide mass training opportunity to a large number of our people and contribute to our vision of preparing Guyana for the future with skilled human resources."
Over 25,000 learners from the Caribbean joined the initiative – gaining free and unlimited access to 4,000 online courses taught by highly reputed professors and mentors from top universities and companies around the world. Registered learners can complete coursework through 31 December 2020.
For more information, please contact:
Natalia Angheli-Zaicenco,
COL Stakeholder Relations Manager
nzaicenco@col.org