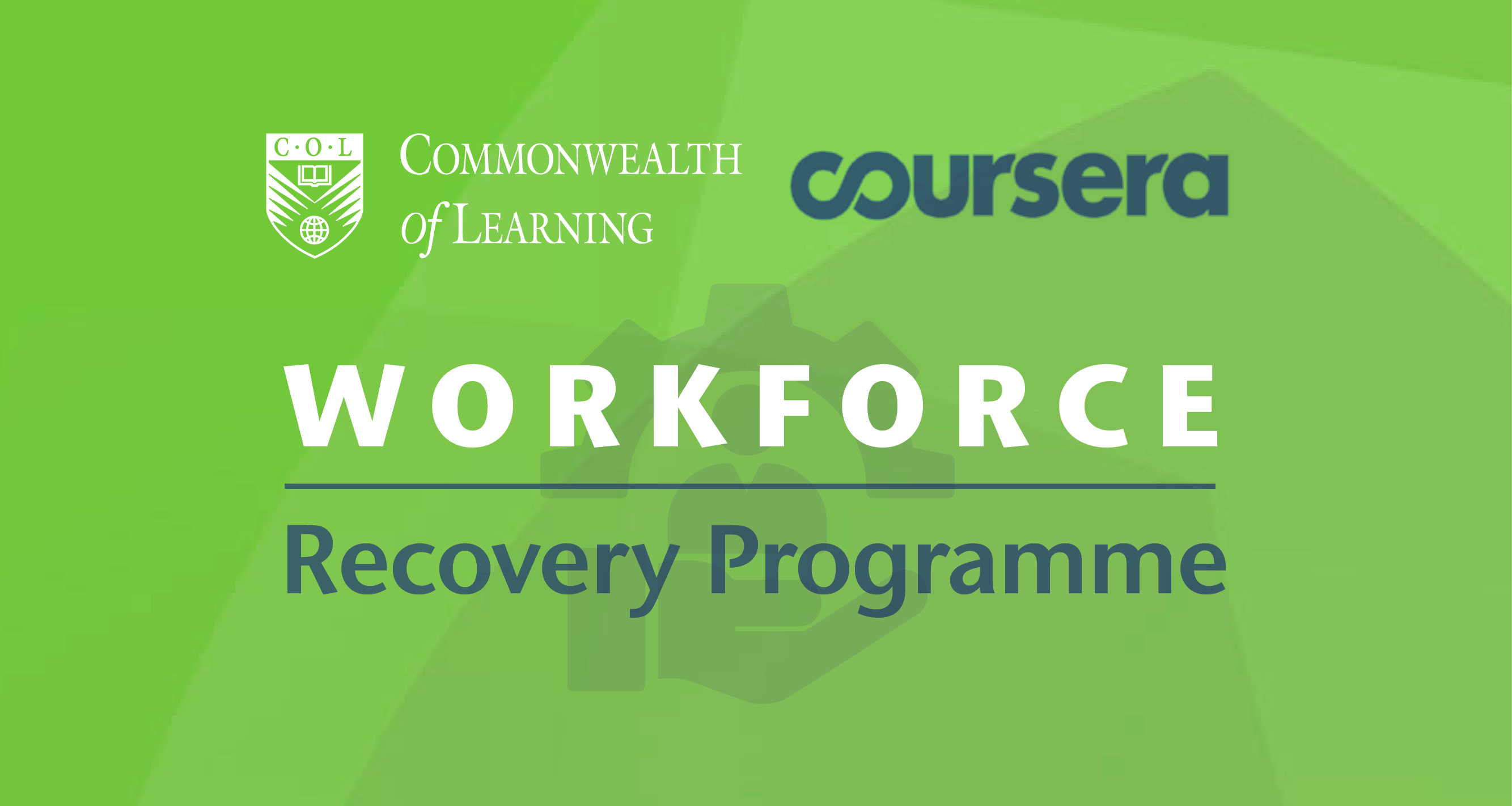 Reading Time:
4
min read
7 July 2020, Burnaby, Canada -The COL-Coursera Workforce Recovery Programme has now been scaled up to offer new skills to 50,000 unemployed citizens of the Commonwealth. Launched in May 2020, it has already attracted 10,000 learners from 40 Commonwealth nations, most of whom had lost their livelihoods due to COVID-19. The first cohort of 3,000 graduates will be conferred certificates at a virtual convocation planned for late July.
"The generous contribution from Coursera has brought learning and hope to thousands who would otherwise not have the opportunity. It is a concrete step to bring the youth back into the workforce," said Professor Asha Kanwar, COL President and CEO.
The initiative has taken skill development to a new level, with 4,000 courses in 400 specialisations, attuned to employability. According to Chad Pasha, Senior Adviser, Global Government Partnerships, the COL-driven learning programme is one of Coursera's most successful partnerships.
While many learners can avail of these courses through their mobile devices, those who have little or no access to the Internet are able to use public libraries in Sri Lanka, Ghana and a number of other African nations.
The Ghana Library Authority is one of COL's partner involved in supporting the learners. According to its Chair, Mr Hayford Siaw, the COL-Coursera programme falls in line with the government's resolve to offer citizens opportunities for new skill acquisition.
Commonwealth Member States can enrol their unemployed citizens in any of the Coursera courses through September 30, 2020, and learners can complete courses and obtain certifications by December 31, 2020. Coursera courses are taught by 200 of the world's leading university and industry educators attuned to the need of equipping people with skills for employment.
About COL
Created by Commonwealth Heads of Government in 1987, the Commonwealth of Learning (COL) helps Member States and institutions harness the potential of distance learning and technologies to expand access to education and training and address the education challenges of today. For COL, learning is the key to sustainable development and must lead to opportunities for economic growth, social inclusion and environmental conservation. Visit staging.col.org for more details.
For more information, please contact: Dr Basheerhamad Shadrach, COL's Adviser: Skills.
-30-