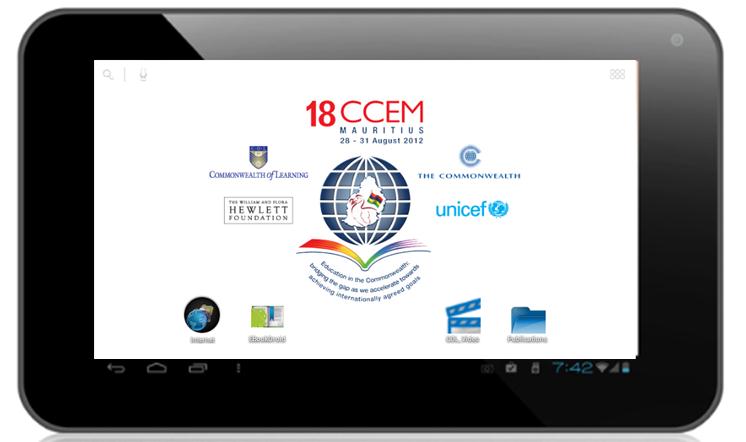 Reading Time:
9
min read
Tablet computing is a trending innovation that holds great potential in the learning and development context. These mobile devices place education in the hands of learners, wherever they may be, and present endless possibilities for improving the quality and accessibility of education around the globe.
In the consumer market, Tablet PCs are dominating, with devices like Apple's iPad leading the way. As the trend grows, open source alternatives, such as Android Tablets, are keeping pace and leveling the market with low-cost devices that can be easily customised for high-impact (see analysis in The Economist). This presents even greater opportunity for education and development institutions to harness their value.
To demonstrate the potential held in these devices, COL ventured to acquire, customise and distribute generic Android Tablet PCs to county delegations at the recent 18th Conference of Commonwealth Education Ministers (18CCEM, Mauritius, August 2012). In collaboration with the Commonwealth Secretariat, and funded by UNICEF/Child-Friendly Schools and The William and Flora Hewlett Foundation, COL was able to execute this project. We acquired a volume of low-cost devices, and customised them with specialised applications and content that suited the unique context of the conference. Containing conference documentation, publications, educational resources, videos and demonstration software, the tablets were well received by Ministers and Senior Officials.
Since this time, COL has been approached by others who are eager to undertake projects like this in order to further learning and development goals. In support of their efforts, we have summarised important aspects our own experience in the related pages. We welcome all organisations and individuals to consult this step-by-step overview as a guide for leveraging the opportunities presented by Tablet PCs as a tool for learning.
Project Video
Sourcing
A buying request was posted to Alibaba Manufacturer Directoryoutlining our needs and preferred specifications. Several offers from suppliers were received and reviewed, and the most sound and affordable one was accepted. The chosen supplier is the original manufacturer of the CORTX chip, commonly used in Android devices. An order for 200 Android Tablet PCs was placed.
Device Configuration
Hardware
Screen Resolution 800 x 480
RAM 512 MB
Build-in Storage 4 GB
Software
Operating System
Android 4.0.4
Ebook Reader
EbookDroid 1.4.2 Link
Video Player
Mx Player 1.6j with ffmpeg codec installed Link
Note-Taking App
OI Notepad 1.3 Link
File Manager
ASTRO file manager 3.1.363
Testing
Each device was tested for quality with special attention given to the following attributes:booting sequence
power and volume buttons
screen quality
speakers, ports
battery life
operating system
default applications
Tablets that failed testing were set aside for troubleshooting.Tablets were re-tested at various stages of the customization process to ensure quality was maintained.
Customisation
To suit the context of the 18th Conference of Commonwealth Education Ministers, devices were customized with the following features and applications:
A custom booting sequence featuring the 18CCEM conference logo, as well as the logos of our contributing partners.
A custom wallpaper featuring the same logos.
An 'eBookshelf' application for accessing publications and conference materials in dynamic bookshelf view.
An open source video player for high quality video playback.
A notebook application for delegates to record notes during conference sessions.
A collection of video content and publications of relevance to Education Ministers and delegates.
A link to the Commonwealth Connects (C2P) online portal.
Scripts were written to execute customizations on each device.Additional manual customizations were carried out on each device by a team of volunteers.
The additional steps below are optional, and may not apply to all projects, though we include them here for reference.
Production of Supplementary Materials:
A brief 'Quick Start Guide' for users was designed and developed to accompany Tablet PCs.
Labels featuring the 18CCEM event logo, as well as the logos of contributing partners, were designed and fixed to Tablet PC boxes.
Device Maintenance
Devices went through multiple rounds of charging in order to maintain battery power during customization and ensure maximum battery life when presented to users.
Devices were cleaned (screens and backs polished) and repackaged after customization.
9 Inch Android 4.0
CPU
All Winner A13, 1.2gHz; GPU: Mali 400
Operating System
Android 4.0 (ICS)
RAM
512MB,DDR3
Flash
8GB
Screen
9″ 800 x 600 Capacitive Screen 5-point touch
Camera
0.3 megapixels
A/V
Supports multiple audio/video formats
Compatible Applications
YouTube, Skype, eBook, Built in email and browser
Battery
4000MAh
Product Size
210x170x10mm
Product Weight
500g
Indicative Pricing (as of Oct 2012)
US$70-75 per min. order of 100; Manufactured in Shenzhen, China
7 Inch Android 4.0
CPU
All Winner A13, 1.2gHz; GPU: Mali 400
Operating System
Android 4.0 (ICS)
RAM
512MB,DDR3
Flash
Support Flash 11.1
Screen
7″ 800 x 600 Capacitive Screen 5-point touch
Camera
Front 2.0 megapixels
A/V
Supports multiple audio/video formats
Compatible Applications
YouTube, Skype, eBook, Built in email and browser
Battery
4500MAh
Product Size
189x123x9mm
Product Weight
313g
Indicative Pricing (as of Oct 2012)
US$70-75 per min. order of 100; Manufactured in Shenzhen, China