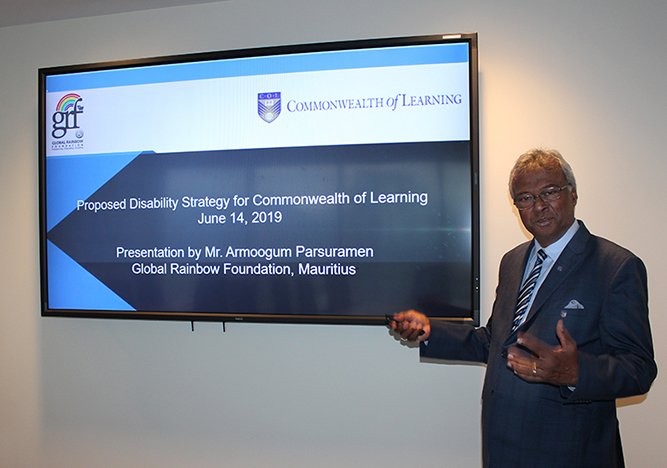 Reading Time:
2
min read
Mr Armoogum Parsuramen, Founder-President of the Global Rainbow Foundation (GRF), Mauritius, through an executive secondment from 10 to 14, June 2019 assisted COL in developing a disability strategy and action plan.
"Persons with disabilities (PWDs) face daily challenges to education, economic, and social inclusion. Inequitable distribution of access to information and education has been a major barrier to the economic and social inclusion of PWDs around the world," shared Mr Parsuramen. He suggested that it is possible to help visually impaired individuals read by providing electronic copies of material delivered in specialised formats like electronic text, audio, synchronized text, and Braille.
COL President and CEO Professor Asha Kanwar said that the development of a disability strategy is an important step to ensure that our programmes include greater accessibility for PWDs.
GRF is an international charitable trust created to empower differently abled persons and vulnerable groups through education and training, providing them the opportunity for holistic human development.