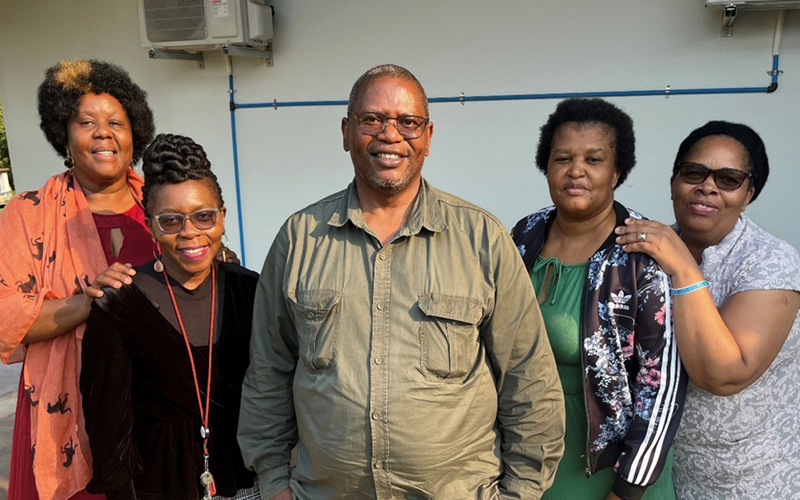 Reading Time:
6
min read
Since 2019, COL has supported the gradual migration of the Emlalatini Development Centre (EDC) from a print-based and contact-supported model to a virtual open school with a digital administration system and learning management system (LMS) that offers a blended learning model. COL is also supporting EDC with an information and communication technology (ICT) augmentation project to improve teaching and learning making use of technology.
COL Education Specialist for Open Schooling, Dr Tony Mays, visited EDC in November 2022 to guide the implementation and commented, "Following my initial meetings with EDC and the Ministry in 2019, the then deputy principal, Mr Simon Maseko and COL developed a concept note to begin to digitise EDC's content, tuition and management processes. Once approved by the Ministry, and during the initial COVID-19 lockdown, COL then commissioned a desktop study to develop an outline of the functionality of the ICT backbone, which would be needed. COL subsequently offered capacity-building training to EDC staff in digital content development, online facilitation, open school management, monitoring, and evaluation. COL's recent support for ICT augmentation, which complements the Ministry's own refurbishment of EDC, will see the establishment of a multi-media development centre, the installation of solar power, the extension of Wi-Fi access to the whole campus, the boosting the signals at the regional centres and the installation of a server to connect all the systems and to link the centre and the regions."
The Principal Secretary, Mr Bhekithemba Gama, indicated his continuing support for COL helping EDC to digitise, noting "digitising is very important to us," but he also noted the need for COL to help government better "to understand as a government how distance education works" so it can follow through on its commitment to "make education accessible to almost everyone."
The Director of Education, Dr Lenhle Dlamini, also emphasised the need for "accessible and affordable distance education." Dr Dlamini said she appreciated the recent start of work on a climate change course, and the many COL MOOCs which had helped with teacher capacity-building and observed that ECD needs greater visibility and to accelerate its ICT migration to be able to offer quality blended learning.
The Chief Inspector of Tertiary Education, and COL's focal point, Ms Fikile Mdluli, noted the need to operationalise the recently adopted ODeL policy to align policy at the institutional level and noted that a Minister-to-Minister meeting was in the cards to clarify the needs of the Ministry of Education and Training in promoting ODeL and the current practices of the Public Service Commission.
With the introduction of a blended learning approach, EDC has started to reverse its trend of declining enrolments from fewer than 300 in 2021 to more than 800 in 2022, despite challenges related to recruiting, training and remunerating part-time support staff.
During Dr Mays' presentation at EDC on Promoting Open Schooling for Girls, it was noted that Eswatini had recently changed its policy to allow pregnant teenagers to remain in school as long as possible. It was also noted that none of the strategies recommended to improve access to schooling for girls was detrimental to boys.
The workshop on Open Course and Content Development, facilitated by Dr Mays, was judged by participants to be 'eye-opening, informative and could enhance the quality of provision at EDC if we just implement the guidelines.' A need was expressed to offer basic ICT training to both teachers and learners, along with having a strategy in place for slowly weaning students off teacher-centred approaches to more resource-based, collaborative, problem-solving and flipped classroom approaches.
Image caption: Mr S. S. Maseko, Principal and lecturers at EDC, Eswatini