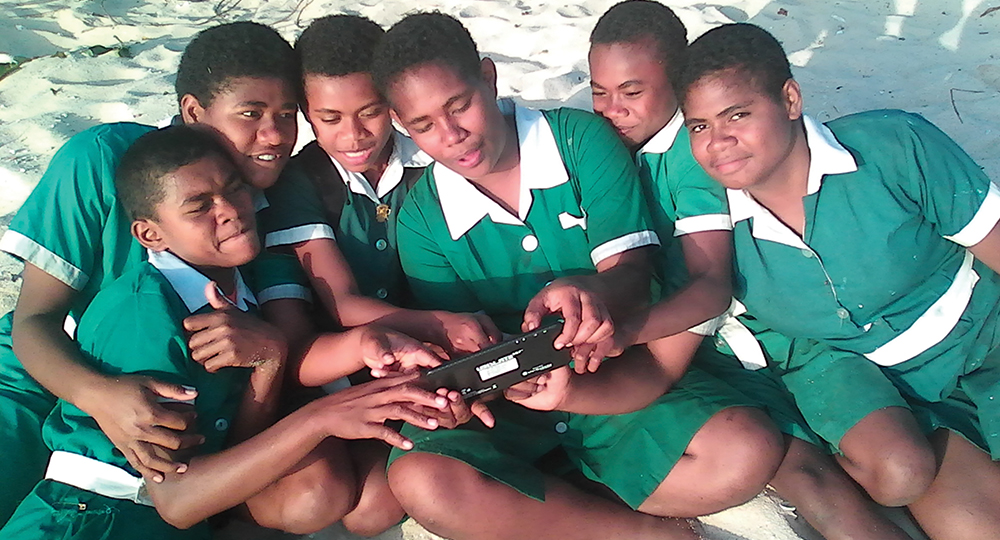 Reading Time:
5
min read
"The capabilities that Aptus had to offer Fiji just blew me away. It was dynamic [and] at the same time user friendly."
– Matai Tagicaki, Education Specialist, Fiji Higher Education Commission
Despite the proliferation of online educational resources and networks, persistent barriers to Internet access can render these resources inaccessible. Fiji knows this well. As an archipelago of over 300 remote Pacific islands, developing and maintaining effective Internet service is complex and costly. While access to online resources isn't essential, it is discouraging for both teachers and learners to miss out on opportunities to access quality materials both for professional development and classroom use.
Education Specialist Mr Matai Tagicaki with Fiji's Higher Education Commission has been working with teachers and learners across Fiji to find innovative ways to share knowledge and resources through open source platforms such as Moodle; however, connectivity remains a challenge. Tagicaki believes Aptus is the game-changer.
Aptus is a low-cost, offline 'virtual classroom' developed by COL. Since learning about Aptus, Tagicaki has demonstrated it as an effective solution across a range of learning environments in Fiji, including early childhood, secondary and higher education scenarios.
In trials at local institutions, Aptus has proven to be a robust solution that is easily customisable to diverse needs. It is currently being explored as a platform for open educational resources (OER) in Fiji's secondary schools, and as a 'library-on-the-go' to serve rural students enrolled in distance learning programmes at Fiji National University.

The Fiji Higher Education Commission and University of the South Pacific have been able to interface Aptus with OLPC laptops. This speaks volumes of the capabilities of Aptus and the opportunities it has to offer for basic ICT in Education for third world countries in the Pacific, especially for Fiji.
Tagicaki and his colleagues in Fiji continue to explore how Aptus can be used to address the unique challenges faced by local education institutions and practitioners working in an environment with limited or no Internet access. The feedback and demand for Aptus from school administrators and educators has been overwhelming, Tagicaki reports.
"One school teacher from an outer island school had tears in her eyes while expressing how much the video content on Aptus will help her with otherwise difficult-to-teach lessons," he said.
Photo credits: Matai Tagicaki, Fiji Higher Education Commission.