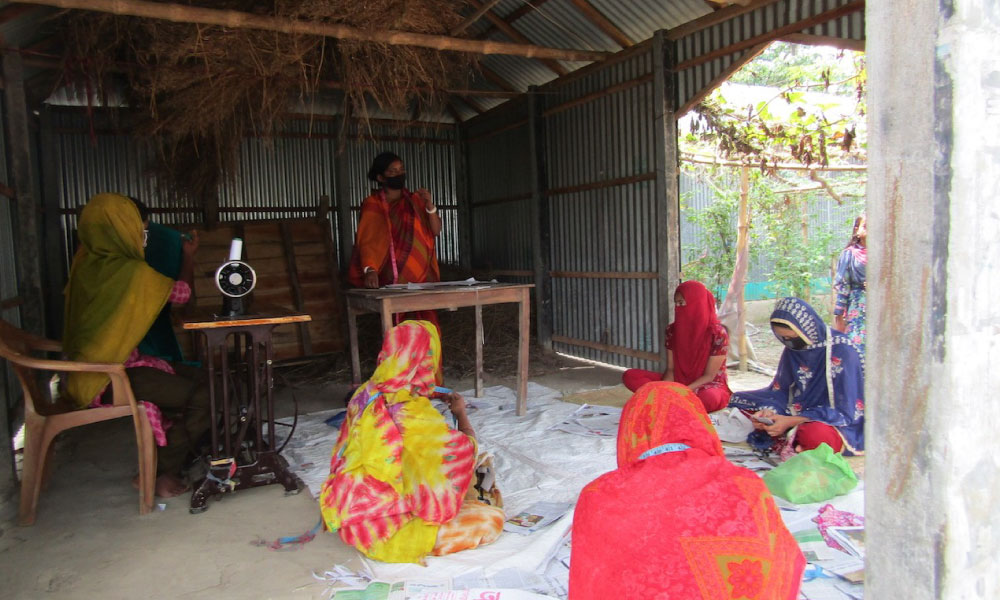 Reading Time:
4
min read
Since 2002, Shidhulai Swanirvar Sangstha (SSS) has operated boat schools for thousands of families in remote, flood-prone regions of northwestern Bangladesh. These floating classrooms have provided access to education to the most vulnerable and the most marginalised, and with COL's support, they have also contributed to improved livelihoods through vocational and life-skills training. Despite disruptions caused by the COVID-19 pandemic, the non-profit has managed to ensure learning continuity.
"Our local livelihoods depend on strategies for living alongside and benefiting from waterways. It's important to make sure that the annual floods and diseases like coronavirus don't keep children from these remote flood-prone areas from school and trap them in poverty," said Mohammed Rezwan, SSS Executive Director.
Since COVID-19 restrictions were imposed in Bangladesh in March 2020, the boat schools have adjusted their operation. Three times a week, the boat picks up teacher Farida Khatun from home early in the morning and travels to the first station, where a small group of children is gathered in a courtyard. Following a rigorous health check and respecting all safety protocols, she offers a lesson and then travels to the next destination – covering three student groups in a day.
"Parents are happy to see the continuity of education and also to learn how to protect themselves from the coronavirus. As I am teaching only five students at a time, it becomes easier for me to work as a facilitator of learning while emphasising each student's interest, ability and learning style," noted Ms Khatun.
The same approach is used to provide livelihood training, with teachers traveling from village to village, and trainees keeping distance from each other under the trees.
COL has been working with SSS to leverage the power of open and distance learning to improve the economic, social and environmental outcomes for hard-to-reach populations, especially vulnerable women and girls.
Ms Frances Ferreira, COL Senior Adviser: Women and Girls, said: "We have observed the resilience of the most marginalised communities who are determined to empower themselves in their search for sustainable livelihoods."