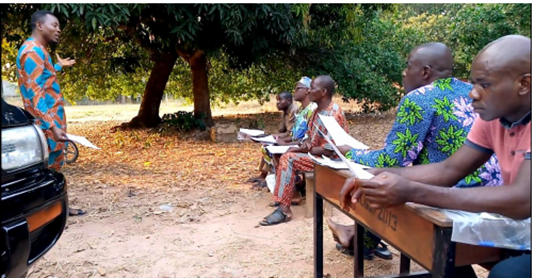 Reading Time:
4
min read
Training the trainers: PHOTO CREDIT: Dr Njoku (RICTHE)
From assisting with the development of a national OER repository to exploring the potential of community outreach by motorcycle, COL has been providing multifaceted support to Nigeria's Universal Basic Education Commission (UBEC) to bring children back to school.
Targeted interventions in Nigeria in 2020 have seen about four million children returning to school, but Nigeria still has many of out-of-school children and youths, currently estimated to be about six and a half million.
In partnership with COL, UBEC has been using a flexible range of face-to-face, blended, online and broadcast strategies.
A national OER repository has been developed and COL is in the process of training a group of administrators to manage it, as well as to curate and upload additional curriculum-based materials. In addition, a total of 28 UBEC lead teachers have been sponsored to explore ways in which online learning approaches could be used at special support centres across Nigeria.
COL is also working with a team from the University of Nigeria's "Researchers on ICTs in Education in Africa" (RICTHE), to explore whether community outreach by motorcycle can help bring children back into some form of schooling.
The outreach focuses on using solar-powered narrow-casting technology (aiming media messages at specific sub-populations) and providing print- and audio-based "nuggets" of content in the local languages based on the needs expressed by learners themselves. Dr Njoku, who leads the outreach project, stressed the importance of developing solutions that will help them reach their goals.
According to Dr Tony Mays, COL Education Specialist: Open Schooling: "There is a need to have both top-down and bottom-up approaches to effectively meet the needs of out-of-school children. While the combination of curriculum based OER, and ODL teaching and learning support can provide more flexible and accessible models, the curriculum must also speak to the specific needs of learners and the diversity of learning contexts."