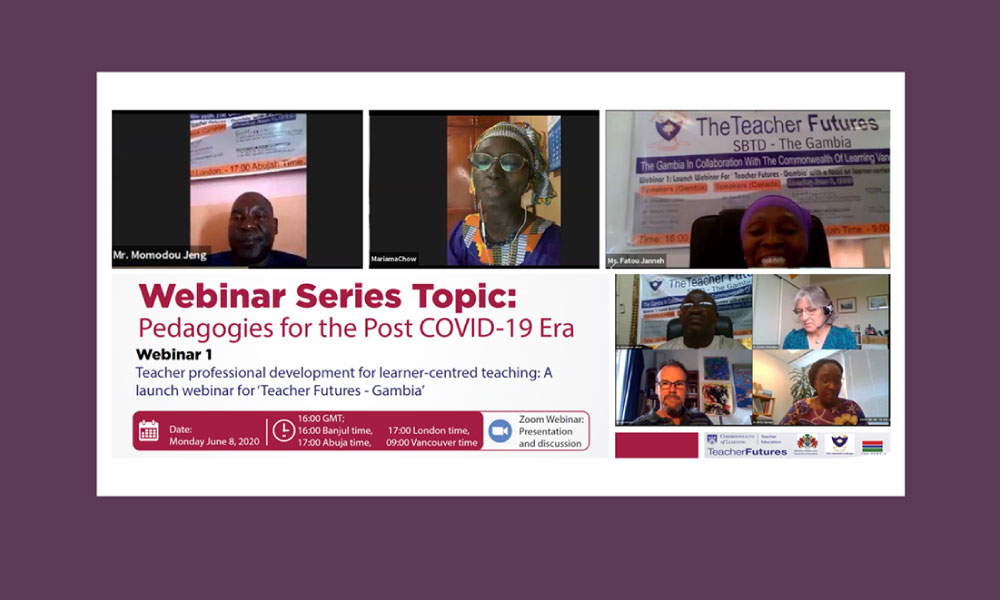 Reading Time:
3
min read
COL is working with partners towards building resilient education systems that will be sustainable both during a crisis and beyond. A webinar series on Pedagogies for the Post COVID-19 Era was developed in response to their needs. It was launched on 8 June 2020 with a session for education leaders, teacher educators and teachers from The Gambia.
The webinar focused on teacher professional development for learner-centred teaching and also marked the launch of 'Teacher Futures – Gambia', a school-based teacher development programme enabled by digital technologies which is supported by COL.
During the opening session, the Director, Science and Technology Education at the Ministry of Basic and Secondary Education, Mr Momodou Jeng, said, "If pedagogical change has to be realised, then we have to promote the kind of learner-centred teaching and learning that we are envisaging, as we look at other mitigating factors. We are looking at both offline platforms and eLearning centres to see how to reach out to teachers with relevant pedagogies during this period."
Teacher Futures – Gambia targets over 1,100 teachers in 20 schools and aims to impact more than 25,000 learners in the first phase. The training materials, which include video, audio and other microlearning resources, are hosted on an eLearning platform for easy access and for sharing and discussion by teacher mentors and teachers in other platforms.
COL's Education Specialist, Teacher Education, Dr Betty Ogange said, "The current pandemic has made it necessary for educators to think about the learning environment outside of the classroom. There is need to continue to develop resources that will support ongoing teacher professional development so they can stay abreast of learner needs in the changing teaching context."