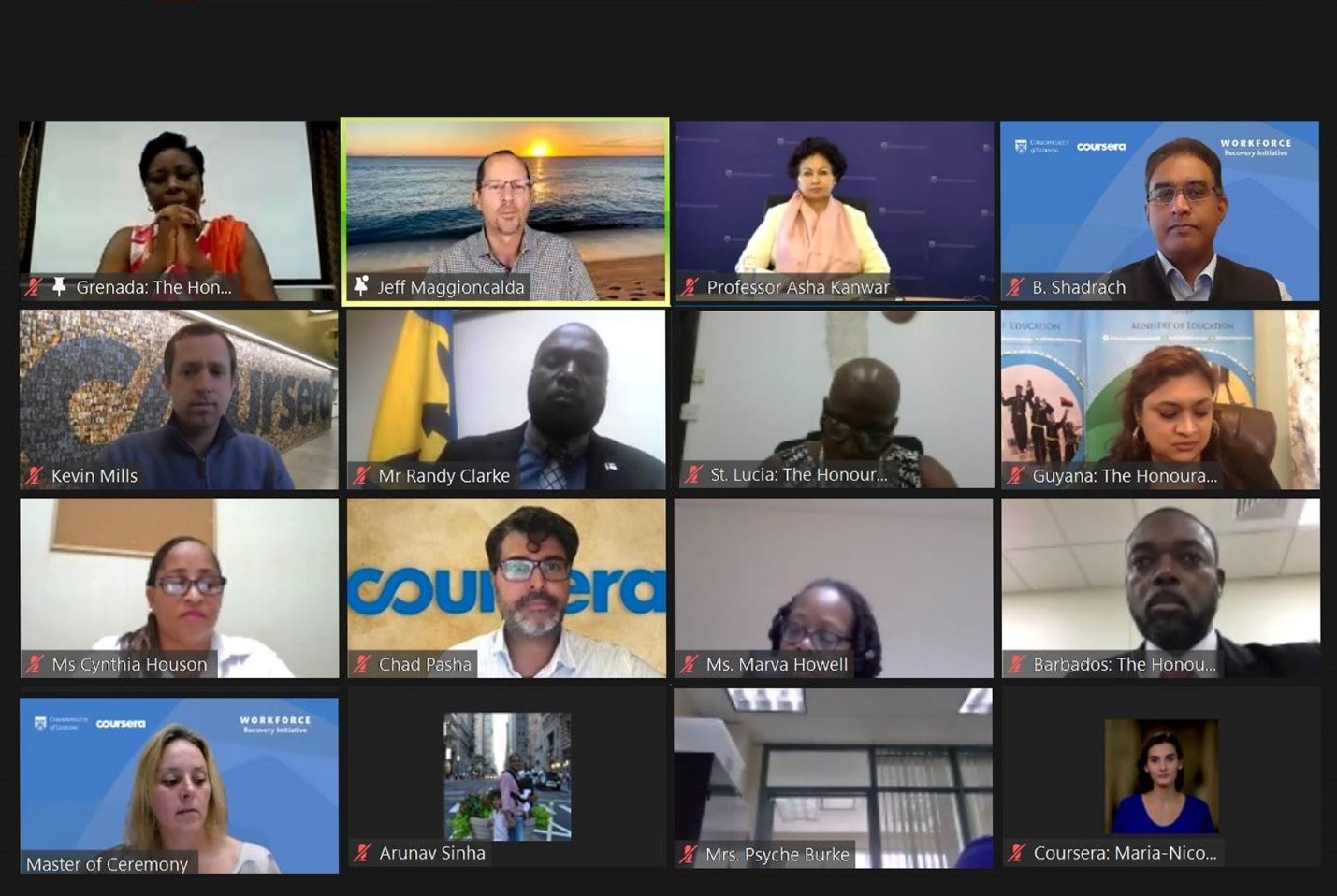 Reading Time:
4
min read
In the face of education disruptions and loss of livelihoods due to COVID-19, over 35,000 learners from the Caribbean have joined the COL-Coursera Workforce Recovery Initiative since May 2020, learning job-relevant skills and boosting their employability. On 22 September, COL and Coursera celebrated the success of the first Caribbean 3,000 graduates at a virtual convocation.
The COL-Coursera partnership aims to help governments in the Commonwealth nations and beyond to provide those who have lost their livelihoods due to COVID-19 with the skills needed to re-enter the workforce. Registered learners have gained unlimited and free access to 4,000 courses taught by highly reputed professors and instructors from top universities and companies around the world.
COL President and CEO, Professor Asha Kanwar and Coursera CEO Mr Maggioncalda were joined by Honourable Colin E. Jordon, Minister of Labour and Social Partnership Relations, Barbados , Honourable Priya Manickchand, Minister of Education, Guyana, Honourable Emmalin Pierre, Minister of Education, Human Resource Development, Religious Affairs and Information, Grenada and Honourable Dr. Gale T. C. Rigobert, Minister of Education, Innovation, Gender Relations and Sustainable Development, Saint Lucia.
Calling the initiative "timely and critical," Professor Asha Kanwar noted: "We can see the future of education unfold before our eyes." She said that the COVID-19 pandemic is expected to further exacerbate youth unemployment in the 54 Commonwealth member states which need skilling and reskilling of their work force.
"You have shown a lot of passion for personal development and business skills. Your determination to learn against all odds is an inspiration to all of us," said Mr Maggioncalda. He noted that collectively, programme participants from the Caribbean had accumulated over 150,000 hours of learning.
Dr Basheerhamad Shadrach, COL Adviser: Skills noted: "In some of theCaribbean nations, more than 10% of citizens in the age group of 16 -35 have joined the programme. With support from various government agencies in the region, COL and Coursera have effectively responded to the individual needs of these learners."
You can watch the event recording here