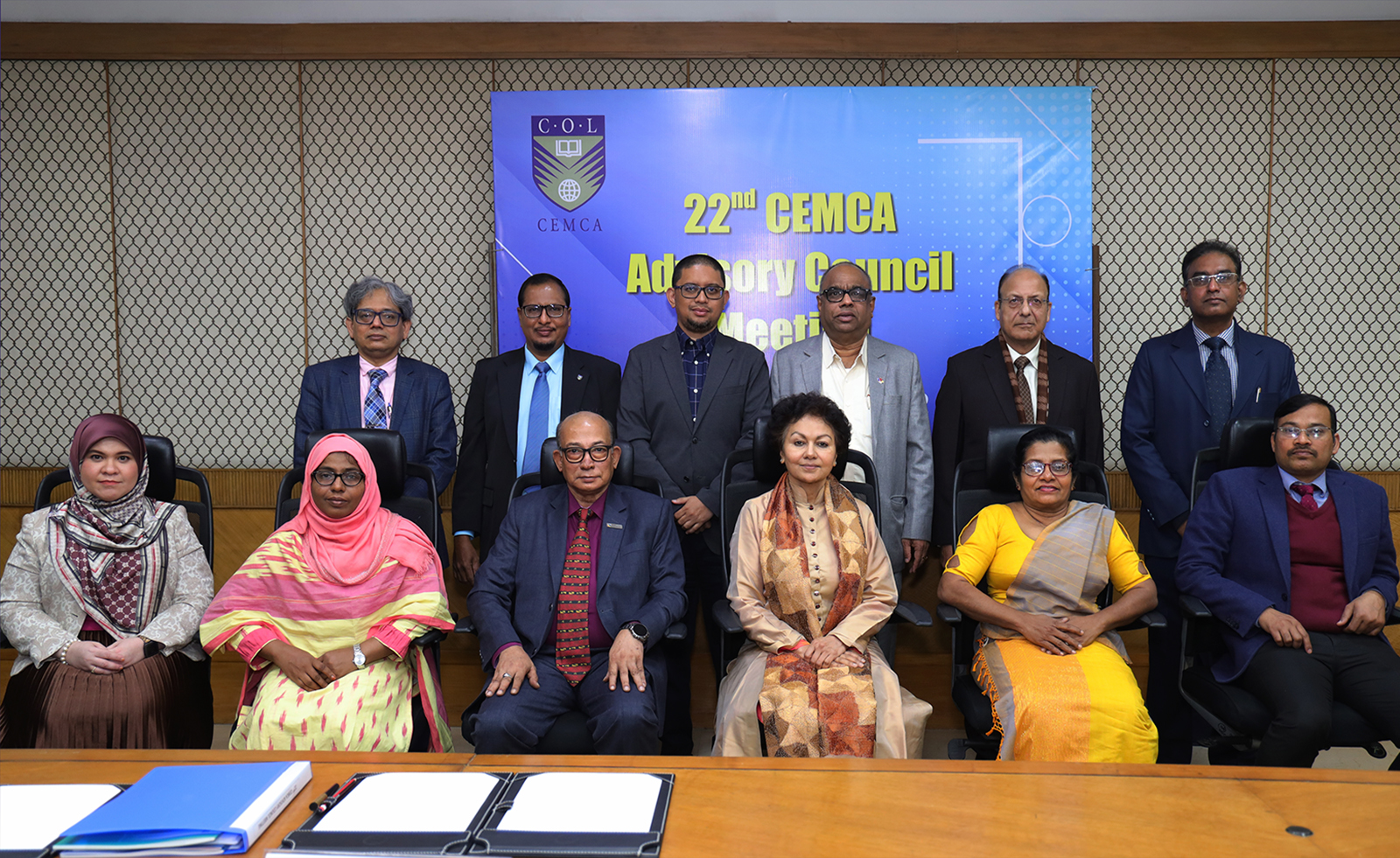 Reading Time:
4
min read
The Commonwealth Educational Media Centre for Asia (CEMCA), the regional centre of Commonwealth of Learning (COL), held the 22nd annual meeting of its Advisory Council in New Delhi on 26 December 2022 to review progress and generate new ideas in collaboration with the members.
COL President and CEO, Professor Asha Kanwar, chaired the meeting and participants included official representatives of the Education Ministries in Bangladesh, India, Malaysia, Maldives and Sri Lanka, as well as Vice Chancellors of open universities in Bangladesh and India. In her opening remarks, Professor Kanwar provided an overview of some of the challenges that have emerged as a result of the Covid-19 pandemic, such as the loss of learning opportunities, inequalities, psycho-social concerns, as well as the impacts of climate change. The meeting also highlighted the importance of Open and Distance Learning (ODL) as one of the major solutions to address and help remedy these issues.
In the ensuing discussions, Council members noted CEMCA's contribution to ODL in the region and outlined the priorities for the future. Professor Syed Humayun Akhter, Vice Chancellor, Bangladesh Open University, spoke to the importance of blended learning and the need for advocating for the uptake of ODL. Mr Mrutyunjay Behera, Economic Advisor, Ministry of Education, Government of India, encouraged CEMCA to develop awareness programmes to conserve the environment and to promote climate literacy in Commonwealth countries.
Ms Noor Jismin binti Mohd Yusoff, Ministry of Higher Education, Malaysia, highlighted her nation's Higher Education Digitalisation Plan and sought COL's support in promoting digital competencies. Mr Ahmed Mausoom, Ministry of Education, Maldives, sought COL's support in spreading community education and parental awareness around vocational and skills-based courses. Ms Hasini Thalagala, Ministry of Education, Sri Lanka applauded the contributions of CEMCA while highlighting the need for establishing virtual labs for vocational skill development. And Professor K Seetharama Rao, Vice Chancellor, Dr B R Ambedkar Open University, India, highlighted the need for a consortium of universities to build virtual labs.
Dr B. Shadrach, Director, CEMCA, while presenting the Annual Report, mentioned that despite the challenges confronted during the pandemic, CEMCA was able to reach out to a significant number of learners. Ongoing activities included supporting higher educational institutions to implement Open Educational Resources (OER) policies and help enhance pedagogical skills among teachers/trainers of Technical and Vocational Education institutions in Commonwealth Asia.