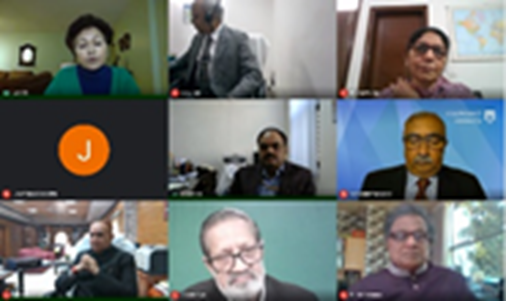 Reading Time:
3
min read
The Commonwealth Educational Media Centre for Asia (CEMCA) held the 20th annual meeting of its Advisory Council in a virtual mode on 1 December 2020 to review progress. COL President and CEO Professor Asha Kanwar chaired the meeting, and participants included official representatives of the Education Ministries in India and Sri Lanka, as well as Vice Chancellors of open universities in India and Bangladesh.
In her opening remarks, Professor Kanwar spoke about COL's activities across the Commonwealth in response to the COVID-19 pandemic.
Professor Madhu Parhar, Director, CEMCA presented an achievement report outlining programme activities in both the Education and Skills sectors, as well as in Community Radio. Despite the challenges brought about by the pandemic, she reported that significantly more learners have been reached, further underlining the increasing importance of distance and online learning across the region.
In the ensuing discussions, Council members noted CEMCA's contribution to ODL in the region and outlined priorities for the future. Professor M. A. Manan, Vice Chancellor of Bangladesh Open University, spoke about the importance of AI-based solutions to proctored assessment; and Dr. B. K. Bhadri, from India's Ministry of Education encouraged CEMCA to develop a crash course on online learning for parents forced into new roles of tutoring students locked down at home. Dr B Jayasooriya (Ministry of Education, Sri Lanka) mentioned that there would be a dedicated department for ODL in his ministry. Members suggested that there should be more collaboration with mainstream media to communicate CEMCA 's achievements.