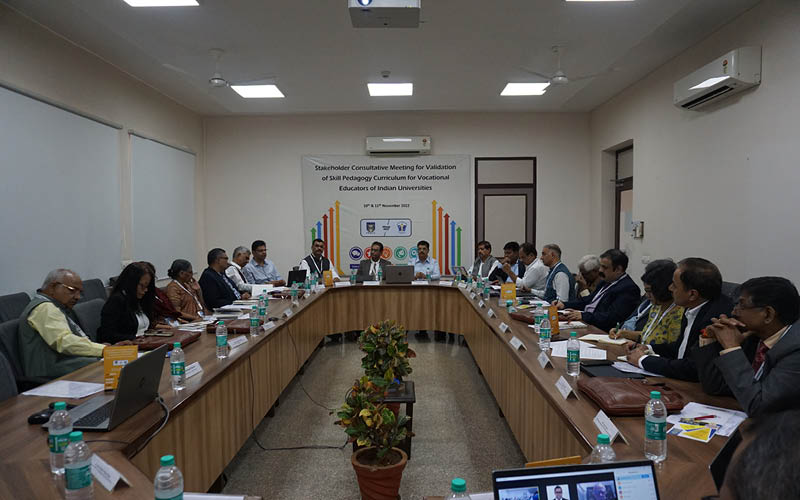 Reading Time:
3
min read
The Commonwealth Educational Media Centre for Asia (CEMCA) and Bhartiya Skill Development University (BSDU), India organised a Stakeholders' Consultative Meeting for Validation of Skill Pedagogy Curriculum for Vocational Educators of Indian Universities from 10 – 11 November 2022. Stakeholders from the vocational domain, including subject matter experts, educationalists and officials from various universities and industry attended the consultation.
Dr B Shadrach, Director, CEMCA, and Dr Sandeep K Tomar, Registrar, BSDU chaired the consultation. In his opening remarks, Dr Shadrach, highlighted that the course to be developed must aim at enhancing competencies of vocational educators in facilitation skills and to reinforce learning in classroom settings. Dr Tomar provided a detailed overview of BSDU and the work that the university is doing to improve the overall skills ecosystem in India by pioneering industry-led courses and collaborating with various sector councils.
The consultation was facilitated by Dr Rajdeep Deb, Principal, BSDU, Mr Purandar Sen Gupta, Master Trainer in Instructional Design, India, Dr Stephen Billett, Professor of Adult and Vocational Education, Griffith University, Australia and Mr Saurabh Mishra, Programme Officer: Skills, CEMCA.
During the meeting, the experts reviewed and validated the skill pedagogy curriculum designed by CEMCA and gave their input for redesigning the overall structure.
Based on the revised outline, CEMCA will be developing an online course for vocational educators to upskill their teaching and training methods over the next three months.