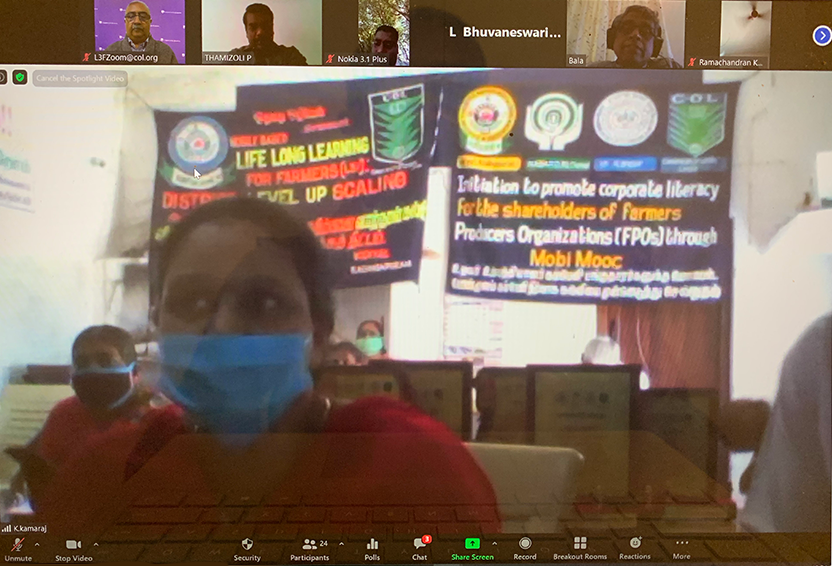 Reading Time:
4
min read
A blended event on 18 June 2020, combining a smaller in-person gathering with a larger web conference, marked the end of the first offering of a mobile-based MOOC on corporate literacy jointly offered by COL and India's National Bank for Agriculture and Rural Development (NABARD) to farmers.
This four-week course, which had been offered during the COVID-19 lockdown, enabled participation via basic mobile phones to more than 1500 farmers, 524 of whom became eligible to receive certificates of completion. COL provided ODL expertise, while the technology platform was offered by IIT-Kanpur using the mooKIT software. Learning materials developed by NABARD were made available as short audio clips.
The certificate-awarding event brought together course beneficiaries, as well as Mrs Padma Raghunathan, NABARD's Chief General Manager, a team of the bank's district managers, and local government officials.
Speaking about her learning experience, Mrs. Shanmuga Thai, a small holder farmer from Theni district in Tamil Nadu State, described how she and her husband understood the value of the course and helped enroll about 30 more farmers. She praised the MOOC delivery system, which allowed her to access learning materials at her convenience.
COL's Lifelong Learning for Farmers initiative works with long-term partners in India who are promoting a new generation of cooperatives called 'farmer-producer organizations' (FPO). Every farmer who joins an FPO becomes a shareholder with all the relevant rights. However, few, if any, are aware of these rights and of the ways to exercise them. COL and NABARD have been collaborating since last year to increase corporate literacy among these shareholders.
Dr V Balaji, COL Vice President, said: "This special occasion shows that an outcome of informal learning can also result in the right kind of credit. Over the next year, the mobiMOOC will be gradually extended to interested Commonwealth countries in sub-Saharan Africa and the Caribbean."