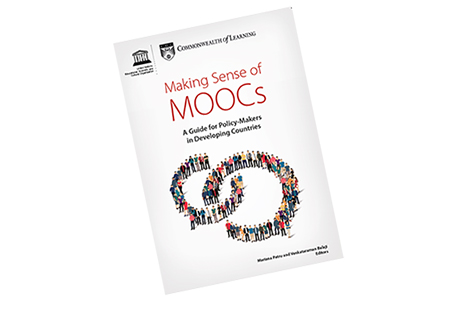 Reading Time:
4
min read
The Commonwealth of Learning (COL) and UNESCO officially launched their latest publication, "Making Sense of MOOCs: A Guide for Policy Makers in Developing Countries," this morning in Paris, France.
The guide is designed to raise general awareness amongst policymakers in developing countries as to how Massive Open Online Courses (MOOCs) might address their concerns and priorities, particularly in terms of access to affordable quality higher education and preparation of secondary school leavers for academic as well as vocational education and training.
"As part of COL's commitment to learning for sustainable development, we are seeking new and innovative ways to increase access to education and training in developing countries," says COL President and CEO Professor Asha Kanwar. "MOOCs for Development are an important tool in those efforts, particularly when they take into account the varied contexts in developing countries, where learners may be dispersed and have limited access to the Internet and related technologies."
As MOOCs expand worldwide, they are shaking up the higher education landscape and have the potential to disrupt the model of brick-and-mortar universities. However, most current MOOCs are delivered by top universities in developed countries and considered by many to be a one-way transfer of knowledge from developed countries to developing countries. The guide offers a particular focus on developing countries, where there is a need for access to affordable, quality education and training, and provides practical information for institutions that are looking to launch MOOCS.
"Making Sense of MOOCs: A Guide for Policy Makers in Developing Countries' will be available for download later this month.
About the Commonwealth of Learning
The Commonwealth of Learning (COL) is an intergovernmental organisation created by Commonwealth Heads of Government to promote the development and sharing of open learning and distance education knowledge, resources and technologies. Hosted by the Government of Canada and headquartered in Burnaby, British Columbia, Canada, the Commonwealth of Learning (COL) is the world's only intergovernmental organisation solely concerned with the promotion and development of distance education and open learning. COL is helping developing nations improve access to quality education and training. www.col.org
-30-