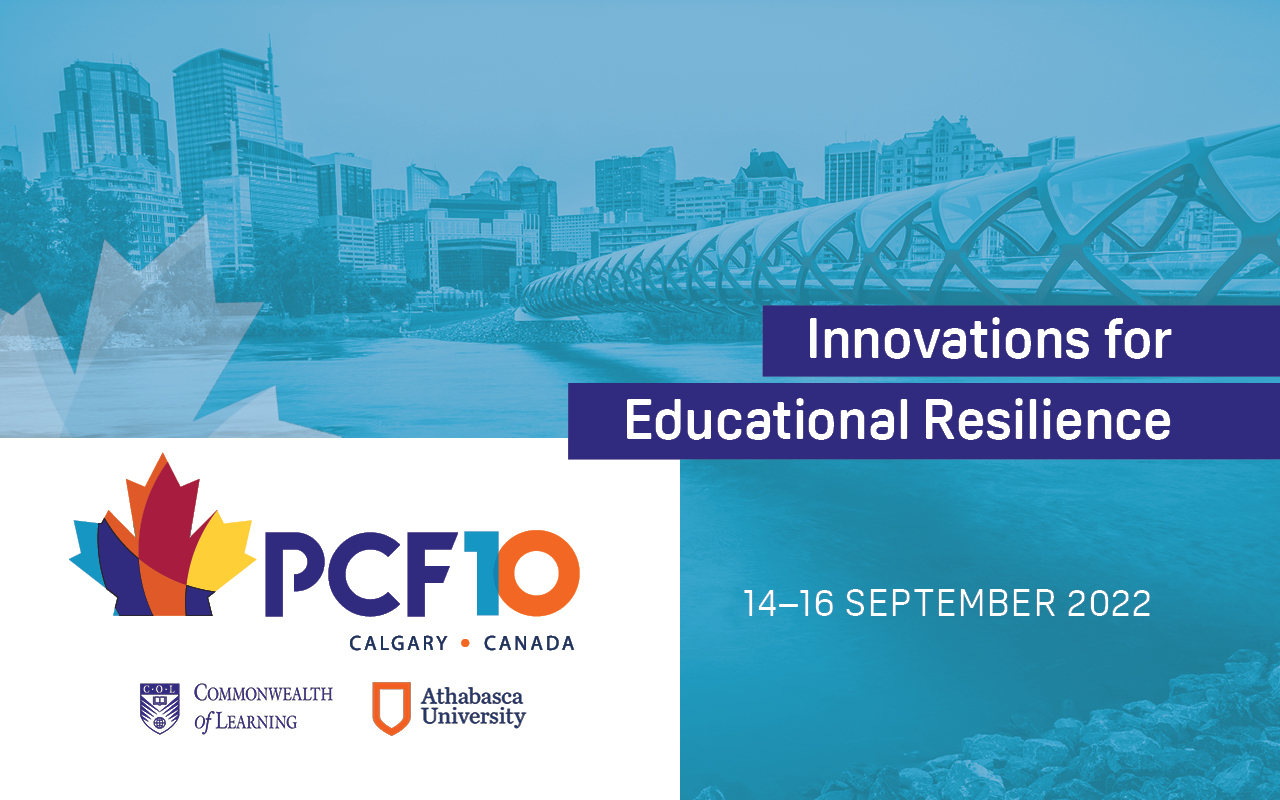 Reading Time:
6
min read
In the lead up to PCF10, to be held in Calgary, Canada from 14-16 September 2022 on the theme of "Innovations for Educational Resilience", four online pre-conferences forums are being held. Each online discussions will focus on one of the four sub-themes.
These discussion forums will be open for a period of two weeks each, and available globally to anyone interested in the theme to join and actively participate. The summary of these discussions would feed into the deliberations of the main conference and help the hosts to identify and develop recommendations for common action.
The schedule per the sub-themes is as follows:
The first online pre-conference on "building resilience" will start on 1st June and conclude on 15th June 2022.
The second pre-conference on "fostering lifelong learning" will take place from 16th – 30th June 2022.
The third pre-conference on "inspiring innovations" will start on July 1st and conclude on 15th July 2022.
The fourth pre-conference on  "promoting equity and inclusion" will start on 16th July and conclude on 30th July 2022.
Interested participants can sign up for the pre-conferences at this link: PCF10 Online Forum – Registration Form (limequery.com). Registration is required and the last date to register is May 28, 2022.
Details about the pre-conferences :
Online Pre-Conference 1:
Building Resilience: starts June 1, 2022; ends June 15, 2022
The online discussion forum on "building resilience" will focus on the economic, political, and cultural aspects of educational disruption and ways to build resilience. In particular, this forum will explore how new models of teaching and learning can promote resilience. Issues related to policies and political commitment for supporting learners, teachers, and parents to adopt the new normal in education will be considered. Participants in the forum will examine ways to leverage existing capacities to support communities which will also include discussions on financing of new models of education, reallocation of budget for building back better and systematic implementation of existing approaches to foster open education for resilience.
Online Pre-Conference 2:
Fostering Lifelong learning: starts June 16, 2022; ends June 30, 2022
The forum will focus on the role of open and distance learning in fostering lifelong learning amidst divergent trends and global disruptions. Discussions during the first week will focus on initiatives from national governments and development partners to foster lifelong learning. During the second week, discussions will revolve around initiatives aimed at fostering lifelong learning at institutional and community level.
Online Pre-Conference 3:
Inspiring Innovations: starts July 1, 2022; ends July 15, 2022
This forum will explore various applications of technology-enabled learning for in-person teaching, blended, and online learning. Participants will discuss ways in which innovations with new and emerging technologies like Artificial Intelligence (AI), Augmented Reality, Blockchain, Virtual Reality (AR/ VR), etc. might support effective learning, towards resilience in education.
Online Pre-Conference 4:
Promoting Equity and Inclusion: starts July 16, 2022; ends July 30, 2022
This online discussion forum will focus on the role of Open and Distance Learning in addressing major inequality gaps and explore how we can leverage technology to promote diversity, equality and inclusion. Participants will have an opportunity to identify, interrogate and explore ideas, strategies, practices, and models that can promote equity and inclusion at all levels of the education system.