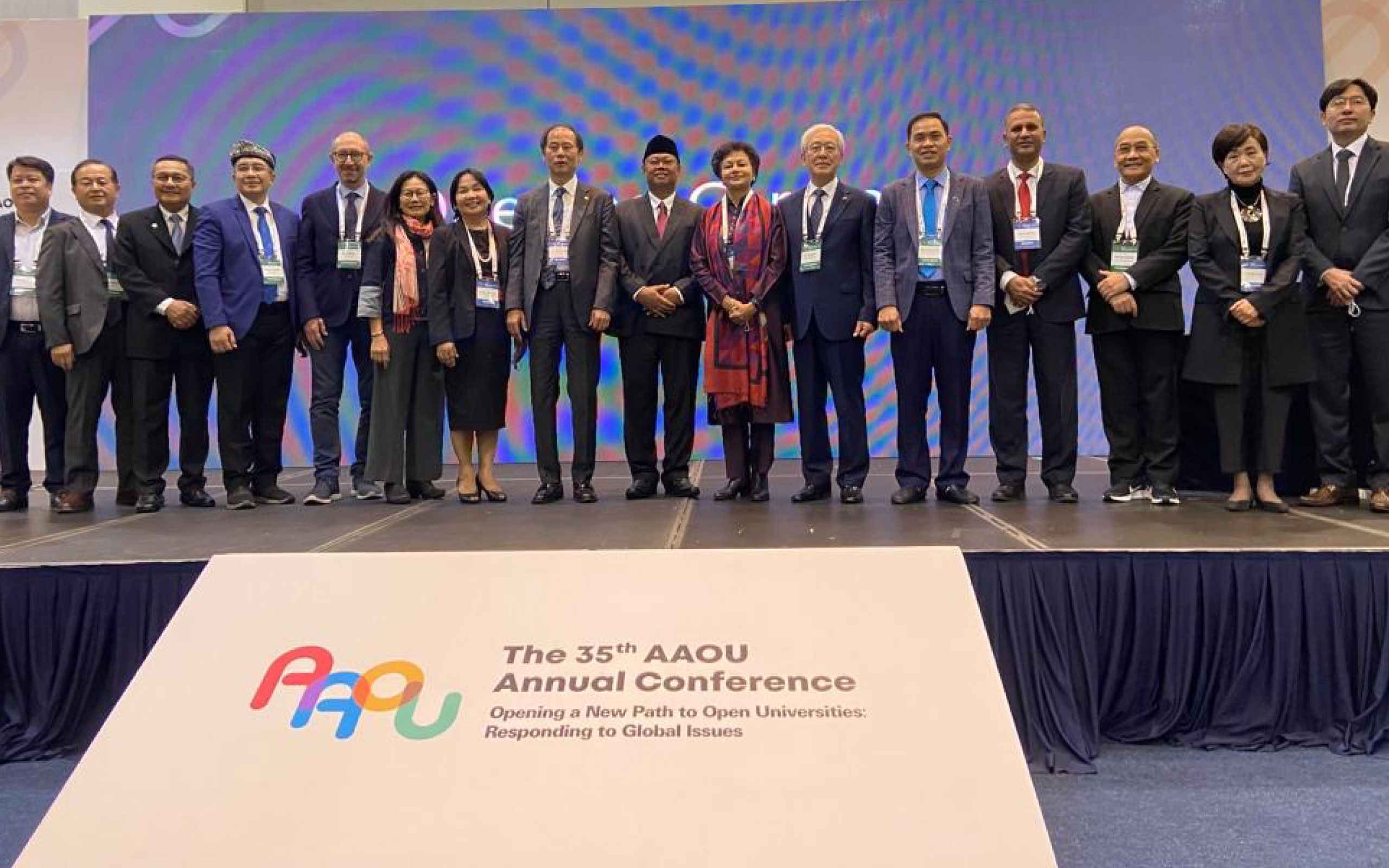 Reading Time:
4
min read
COL President & CEO, Professor Asha Kanwar, delivered a keynote address at the 35th AAOU (Asian Association of Open Universities) Annual Conference held at Jeju Island in South Korea from November 2 – 4, 2022.
Within the conference theme of a "New path for open universities: Responding to Global Issues," Professor Kanwar spoke to three major issues that the world is confronted with today – the Covid-19 pandemic, Sustainable Development Goal 4 (SDG4) progress and the climate crisis – all of which have a direct link to the education sector.
With a focus on SDG4, to ensure inclusive and equitable quality education and promote lifelong learning opportunities for all, Professor Kanwar posited,
"How can we fast track progress towards SDG4? UNESCO has proposed a five-point agenda for achieving this target. This means universities must increase access to higher education, promote equity and inclusion, improve quality, increase financing and strengthen distance and online learning. As we know, open universities are traditionally known to contribute to all these dimensions – by increasing access, improving quality, reducing costs and promoting equity. They also contribute to the financial dimensions – by achieving cost efficiencies and economies of scale."
The conference is centred on six main areas impacting open universities (OUs) – repositioning in a post-Covid era, contributions to society, assessment, human resource development, student support services and innovations in distance education with an eye to continuous improvement and delivery of quality education.
Professor Kanwar also touched on how OU's can help address many of the pressing issues to help attain the United Nations' SDG4 agenda by 2030. Making reference to COL's report on education and climate change, she said,
"This report provides a road map for how ministers of education can climate-proof education systems, implement a green learning agenda that builds skills for blue and green economies, and promote education for climate action."
The 35th AAOU conference is hosted by the Korea National Open University (KNOU) – a mega university, providing high-quality multi-media instruction and contributing to human resource development in the country. AAOU is the open and distance learning (ODL) association of 58 universities in Asia of which COL is a longstanding partner.
To view Professor Kanwar's presentation, please visit: http://hdl.handle.net/11599/4632.