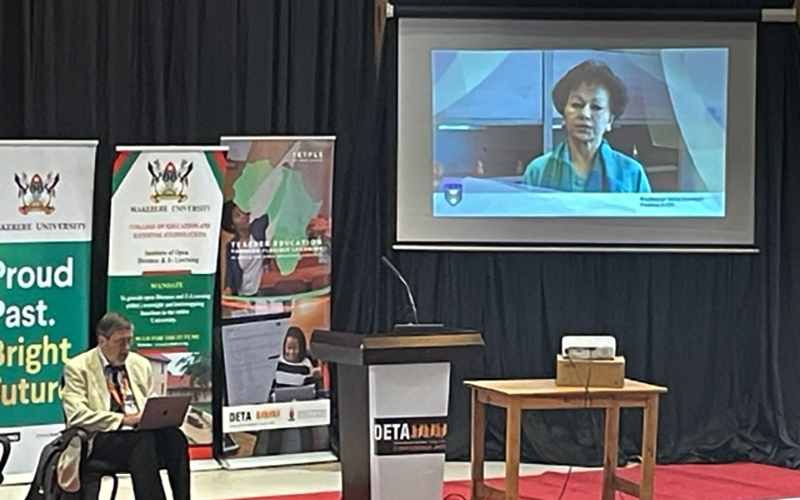 Reading Time:
3
min read
In late July, COL President and CEO Professor Asha Kanwar delivered a virtual keynote speech at the Distance Education and Teachers' Training in Africa (DETA) Conference 2023 at Makerere University in Kampala, Uganda.
Under COL's theme of "Shaping the Future of Teacher Education in Sub-Saharan Africa", Professor Kanwar addressed several key issues that spoke to the need for improved quality of education following the devasting effects of Covid-19 in post-pandemic Africa. The President emphasised the need for increased capacity building of teachers, school re-opening and learning continuity for every child, as well as addressing the lack of ICT infrastructure and scarcity of quality digital content for students.
"The pandemic showed how unprepared the education sector was for any sudden disruption. Teachers were unprepared for distance teaching, did not have access to quality digital content, and lack of ICT infrastructure proved to be a major barrier. It became clear that building the capacity of teachers was a key necessity – especially in digital skills and addressing the learning loss that the pandemic caused."
Regarding COL's green learning agenda, the President remarked, "No education of the future can ignore the urgency of climate change. We need to adopt a green learning agenda which has three dimensions – developing the skills for green jobs, green life skills for a more sustainable future, and skills for a green transformation that addresses social justice."
The DETA conference is a three-day, Africa-specific biennial conference that was initiated by the University of Pretoria in South Africa in 2005. This year, 116 delegates from 15 Commonwealth and non-Commonwealth countries attended the conference.
To view Professor Kanwar's video presentation, please go to https://www.youtube.com/watch?v=x5RNzEsdok4
A transcript and presentation slides are also available at http://hdl.handle.net/11599/5416