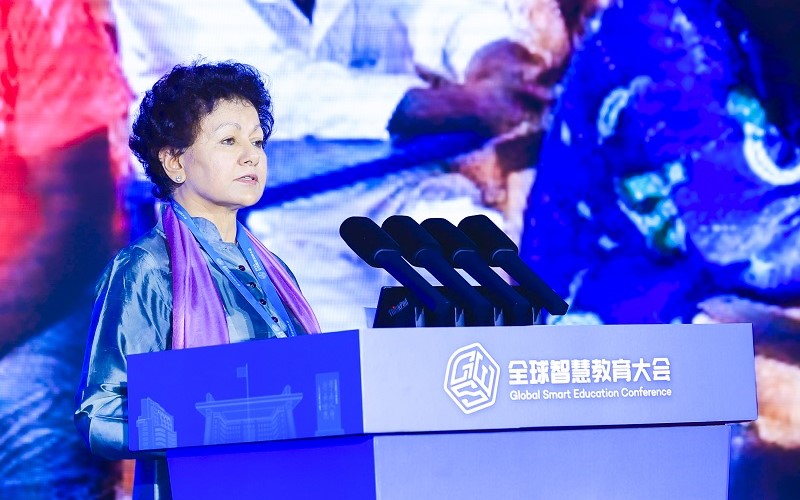 Reading Time:
5
min read
The Global Smart Education Network (GSENet), founded by the Commonwealth of Learning (COL) along with the UNESCO IITE, convened at the Global Smart Education (GSE 2023) conference in Beijing, China, in August 2023.
The meeting focused on promoting actions aligned with the UN Transforming Education Summit and achieving Sustainable Development Goal 4 (SDG4). The participants recognised the potential of cutting-edge technologies to transform education. They defined smart education as a system that leverages modern science and technology to enhance learning experiences and educational quality. Recommendations were made to governments, policymakers, local authorities, researchers, and stakeholders to develop and implement smart education strategies. Challenges were also identified, emphasising responsible, human-centred approaches, the role of technology as a facilitator, the importance of open educational resources (OER), and the need for continuous upskilling in line with technological evolution. GSENet expressed commitment to global collaboration in promoting smart education practices.
On the conference's opening day, COL President and CEO Professor Asha Kanwar delivered a keynote address under the theme Smart Education for Transforming Lifelong Learning. The President remarked, "Since smart education addresses the goals of SDG4, intergovernmental organisations such as COL and UNESCO can provide advocacy and policy support."
She reflected on the transformative potential of smart education in the context of lifelong learning. Drawing inspiration from futurist author Alvin Toffler's insight that the literate of the 21st century will be lifelong learners, Professor Kanwar explored how smart education can be sustainable, meaningful, accessible, resilient, and transformative.
Later in the conference, the President delivered a presentation entitled 'Smart Education Policies and Strategies.' Her speech highlighted how:
Policy plays a crucial role in providing an enabling framework for implementing smart education;
Policymakers must consider six themes relating to infrastructure, curriculum and pedagogy, digital educational resources, competencies, governance and management;
Open educational resources, including in local languages, open practices and accessible learning management systems, must feature as central to this policy process; and
Planning, implementing and monitoring smart education policies are equally important as management would harvest big data for decision-making and assuring quality.
In her valedictory address, she explored the transformative potential of AI in education while emphasising the need for AI literacy, ethical use, collaboration, and cautious optimism. Key insights from her valedictory included:
Benefits of AI in Education: Increased productivity, reduced costs, personalised learning, and adaptive feedback are promising advantages of integrating AI into educational systems.
Challenges to Overcome: Addressing the digital divide and establishing clear regulations are vital to ensuring that AI's potential is fully realised without exacerbating inequalities.
In closing, Professor Kanwar highlighted the importance of human, data and technological literacy and the need for a paradigm shift in education.