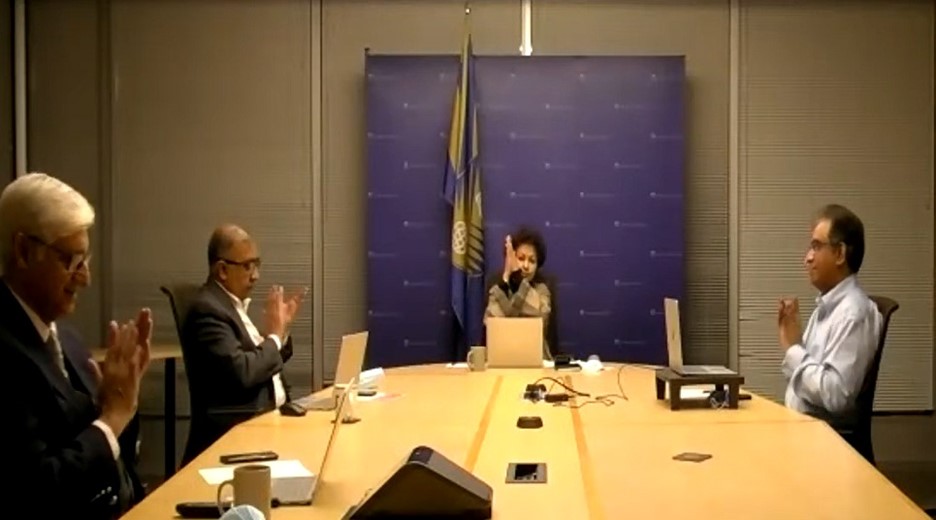 Reading Time:
4
min read
Increased confidence in building the right skillset for the labour market, a sense of personal growth and achievement – these are just some of the experiences shared by the Asia graduates of the COL-Coursera Workforce Recovery Initiative. On 27 April 2021, they were celebrated at a virtual convocation, with participation of the two partners and dignitaries from the region.
Congratulating the graduates, COL President and CEO, Professor Asha Kanwar, said: "The 10,307 learners who are graduating today have earned 51,917 certificates, after completing one or more courses. Forty percent of these graduates are women. This demonstrates how people are eager to learn and succeed if given the opportunity."
COL has partnered with Coursera to make a difference in the lives of almost 150,000 Commonwealth citizens, whose immediate need was to acquire new skills to be competitive in today's workforce. For many, this was an opportunity to regain employment and livelihood lost due to COVID-19.
Speaking at the convocation, Honourable Tipu Munshi, MP, Commerce Minister, Bangladesh, welcomed the wide range of digital and entrepreneurship skills "that can be useful in the age of COVID-19 and beyond."
In the framework of the Initiative, learners gained free and unlimited access to 5,000 online courses in 400 specialisations taught by highly reputed professors and mentors from top universities and companies around the world.
Honourable Dr Ibrahim Hassan, Minister of Higher Education, Maldives, noted: "COL partnering with Coursera to provide free license to citizens of the Commonwealth nations is such a huge help for countries and people for their personal gains."
According to the Honourable Professor Kapila Perera, Secretary, Ministry of Education, Sri Lanka, the Initiative helped learners gain employment and promotions, start businesses and expand their customer base.
COL and Coursera will continue to offer Commonwealth learners opportunities to gain skills in high-growth areas through a new Skills for Work initiative.
According to Mr Jeff Maggioncalda, Coursera CEO, the pandemic has resulted in job losses and has worsened social equity across the world. "Greater access to job-relevant education and training will continue to play a vital role in preparing the workforce for the future," he said.
Watch the testimonials of COL-Coursera graduates from Asia in this video.
Read the full transcript of Professor Kanwar's speech.