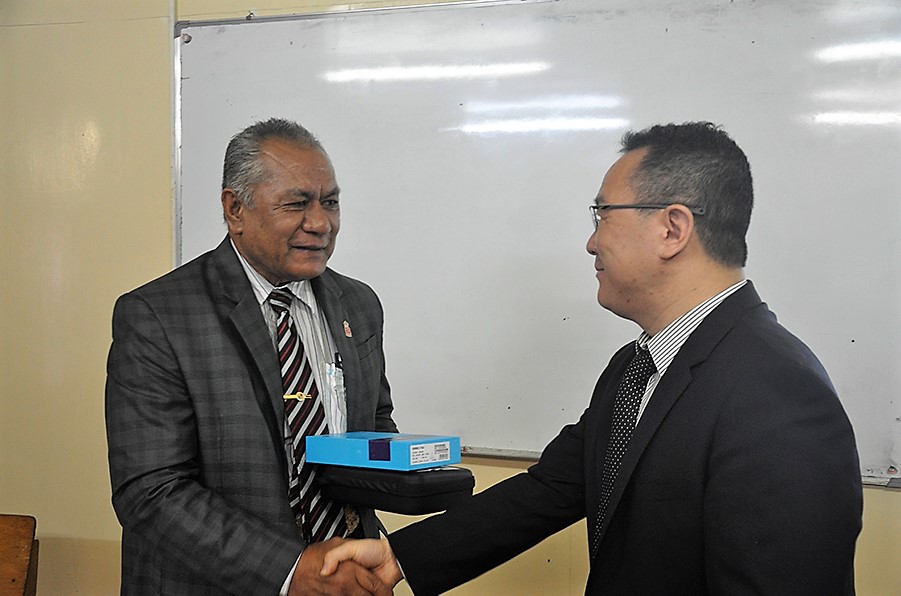 Reading Time:
5
min read
The Commonwealth of Learning (COL) deployed 25 Aptus devices and 250 high-quality tablet computers in Tonga on 10 April 2018, following Cyclone Gita, which hit the country in February. The storm destroyed power grids and schools, causing a disruption in teaching schedules. It also affected routine teaching in some schools and forced children to take classes in tents.
Following a meeting between COL President and CEO, Professor Asha Kanwar and Tonga's Minister of Education and Training, Honourable Penisimani Fifita, during the 20th Conference of Commonwealth Education Ministers in Fiji, COL arranged to send Aptus devices to assist the Ministry in restoring classroom teaching in Tongan schools and colleges.
"Aptus would transform the classroom experience in Tonga," said Honourable Fifita during the formal handover event at the Ministry in Nuku'alofa. The Ministry appointed the Tonga Institute of Higher Education (TIHE) as the lead agency to deploy Aptus in various schools.
COL's Knowledge Services Manager, Mr Ricky Cheng, handed the devices to the Honourable Minister and a training programme is under way to train key personnel in Tonga to optimise the use of the device and its software. The Deputy CEO of TIHE and COL Focal Point in Tonga, Ms Siatukimoana Vaea, appreciated COL's efforts and explained how Aptus would contribute to enhancing classroom teaching in Tonga. Mr Matai Tagicaki of the Pacific Centre for Open and Flexible Learning for Development (PACFOLD), gave a demonstration of Aptus.
About Aptus
Aptus is a low-cost device designed by COL that allows educators and learners to connect to digital learning platforms and content without the need for grid electricity or Internet access. This mini-PC requires only battery power, which can be provided by the solar charger. It can host up to 32GB of educational content and facilitate interactive, virtual learning anywhere – whether in a remote rural village or on a vast university campus. The result is a "Classroom Without Walls" that can be set up within minutes and accessed by any learner with a laptop, tablet or mobile device.
About the Commonwealth of Learning
The Commonwealth of Learning (COL) is an intergovernmental organisation created by Commonwealth Heads of Government to promote the development and sharing of open learning and distance education knowledge, resources and technologies. Hosted by the Government of Canada and headquartered in Metro Vancouver, British Columbia, Canada, COL is the world's only intergovernmental organisation solely concerned with the promotion and development of distance education and open learning. COL empowers people through learning that leads to economic empowerment, social inclusion and environmental conservation.
-30-