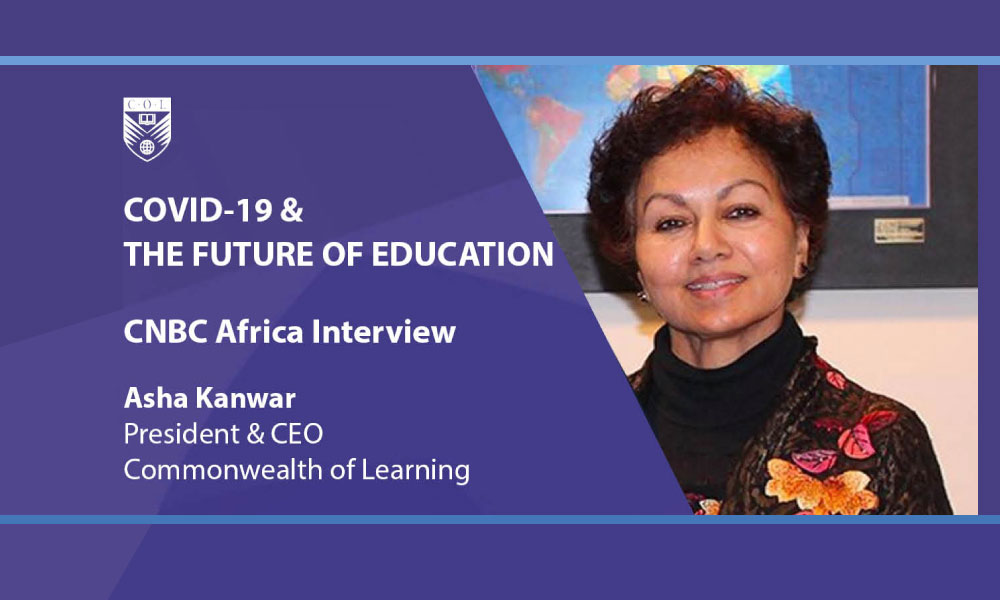 Reading Time:
3
min read
As the world grapples with the COVID-19 pandemic, educators and learners alike are facing unprecedented challenges. How is this crisis impacting education outcomes in the Commonwealth and what is the way forward? On 3 June 2020, COL President and CEO Professor Asha Kanwar shared COL's perspectives on CNBC Africa's Beyond Markets.
She spoke about the benefits of distance education and the role of technology in driving education outcomes, as well as COL's comprehensive response to the crisis.
In the interview, Professor Kanwar noted that 574 million students have been impacted by institutional closures across the Commonwealth. Lack of content, inadequate access to eLearning portals, and connectivity issues have been the biggest challenges in the resulting transition to online learning and have widened the digital divide.
"COL is promoting distance education, building instruments and providing resources – to reach across the divides, reach the last mile and the last person in the queue," she said.
She spoke about COL-led International Partnership of Distance and Online Learning for COVID-19, the CommonwealthWiseWomen mentoring programme, which builds leadership capacity of women and girls in underserved communities, and the recent joint initiative with Coursera aimed at reskilling unemployed citizens of the Commonwealth who lost their jobs due to COVID-19.
Professor Kanwar stressed the need to build resilient education systems capable to withstand future crises. "At the heart of these resilient education systems are institutions that have a culture of care," she concluded.
You can view the full interview here.