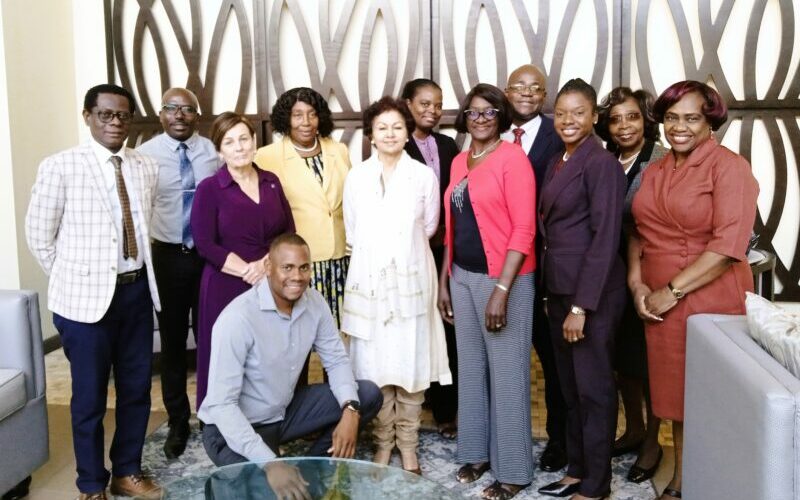 Reading Time:
6
min read
Participants from ten Commonwealth nations across the Caribbean – Antigua and Barbuda, the Bahamas, Barbados, Grenada, Guyana, Jamaica, St Kitts and Nevis, St Lucia, St Vincent and the Grenadines, and Trinidad and Tobago (remotely) – attended COL Focal Points Meeting: the Caribbean. Kingston, Jamaica.
The COL Focal Points meeting for the Caribbean region was held on 30 and 31 January 2023 in Kingston, Jamaica.
The Minister of Education, Youth and Information, the Honourable Ms Fayval Williams declared the meeting open. In her inaugural remarks, the Minister stated that the future of education is uncertain, and countries must be open and ready. She also noted that COL has been the one reliable agency that is helping countries to be ready for this uncertain future by making use of open and distance learning, open educational resources and appropriate technologies for education.
Day 1 highlights included COL President and CEO, Professor Kanwar's opening address and a sessional speech entitled "Covid-19: Shaping Education for the Future." The President commented on the lingering effects of the pandemic on education and how COL has designed and created solutions to help meet these existential challenges for learning.
"From our experience with Covid-19, the future of education is blended," she said, adding that "we must use appropriate technologies to create blended learning opportunities." The President also explained that multiple pathways have to be created to acquire qualifications and concluded that technologies are required to personalise learning experiences for people.
A busy Day 2 featured a presentation from Professor Kanwar on the 'Green Learning Agenda: Climate Change and Education' and 'OER for Quality Education: how can we benefit?'
On the topic of climate change, she touched on the importance of teaching schoolchildren about their environment and how to preserve it for the next generation. Professor Kanwar also added that every country needs to develop a Green Learning Agenda to ensure that countries are driven towards sustainable development.  She concluded that all countries must develop resilient infrastructure, the necessary skills for the blue and green economies and promote climate justice.
For many people in the developing world, accessibility is a major issue as it sometimes comes at a prohibitive cost. In these places, open educational resources (OER) are game changers that ensure quality education. OER reside in the public domain or has been released under an open license that permits no-cost access, adaptation and redistribution by users without restrictions. In her second address of the day, Professor Kanwar emphasised that developing countries have to take advantage of OER to ensure the quality of education in these countries. She encouraged governments to develop supportive policy environments, ensure inclusive and equitable access to quality OER and also ensure that it is tuned in to national languages and cultural settings while developing sustainability models for the use of OER.
Both days included presentations, group work and roundtable discussions facilitated by Dr Mairette Newman, COL Education Specialist: VUSSC, and Professor Wale Adekunle Adviser: Lifelong Learning for Farmers.
Focal Points – senior officials nominated by ministries of education – keep ministers updated on COL's work, provide guidance on country priorities and serve as a valuable strategic resource.
The Commonwealth of Learning first introduced a network of 'COL Focal Points' in 2006 and, today, continues to host triennial meetings to update Focal Points on its work in their region and the wider Commonwealth and to consult with them on regional and national priorities.