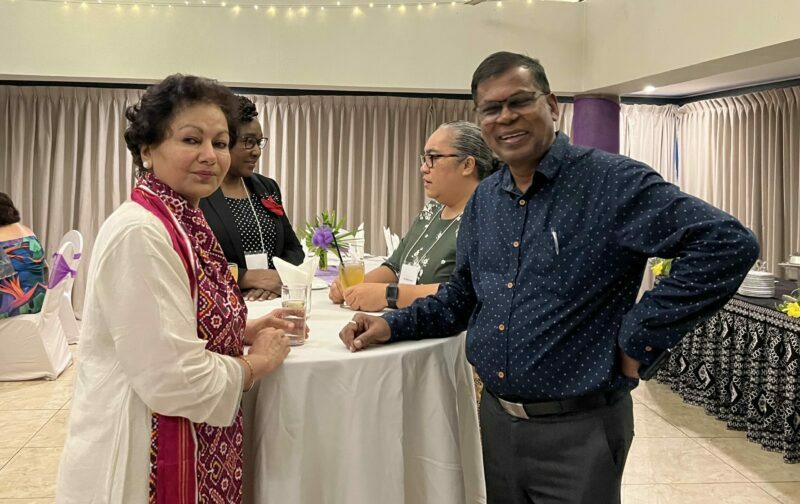 Reading Time:
5
min read
The final of four regional Focal Points meetings held over the past three months concluded recently, where Focal Points from eight of the nine Commonwealth Member States in the Pacific met in Lautoka, Fiji, from 23-24 March 2023.
Fiji's Deputy Prime Minister and Minister for Finance, Strategic Planning, National Development and Statistics, the Honourable Professor Biman Chand Prasad welcomed participants to Fiji during a reception.
In her opening presentation at the meeting, COL President and CEO Professor Asha Kanwar regretted the absence of COL member Vanuatu in the aftermath of two back-to-back destructive cyclones that had hit the Island nation earlier this month. She said a COL representative would visit Vanuatu following the meeting to explore how COL might provide immediate support and contribute to longer-term systemic resilience through targeted capacity building.
This was followed by a summary based on key priorities identified in the reports from each country submitted in advance by Focal Points, which informed the discussions. Focal Points worked in two country clusters to identify three to four top priorities for the countries in the cluster and to map out related key activities and stakeholders, as well as COL's anticipated role. Teacher capacity building in online education was a priority for all.
Mr James Bosamata, Deputy Secretary from the Ministry of Education and Human Resource Development, Solomon Islands, and a long-serving COL Focal Point thanked COL for inviting Focal Points to the meeting and for considering their views. This was followed by Professor Kanwar's formal closure of the meeting where she recognised the valuable strategic role that Focal Points play in providing guidance to COL on their own country priorities so that COL can respond accordingly.
A takeaway message from the workshop by Muagututi'a Dr Ioana Chan Mow, Professor of Computing and Computer Education, National University of Samoa and Focal Point,  "collaboration, sharing of ideas, innovation, identifying common issues/needs to strengthen sustainable education in the Pacific, COL the enabler" not only exemplified the values of the Commonwealth but appreciated COL's role within learning for sustainable development.
COL Country Reports, covering activities in member countries up to 2021, were also distributed to the Focal Points along with various other resources.
COL's Vice President, Dr Venkataraman Balaji, Education Specialist: Open Schooling, Dr Tony Mays and Education Specialist: Teacher Education Dr Betty Ogange, facilitated the sessions.
Image caption: (Foreground, L-R) Professor Asha Kanwar, COL President and CEO, and the Honourable Professor Biman Prasad, Deputy Prime Minister of Fiji.