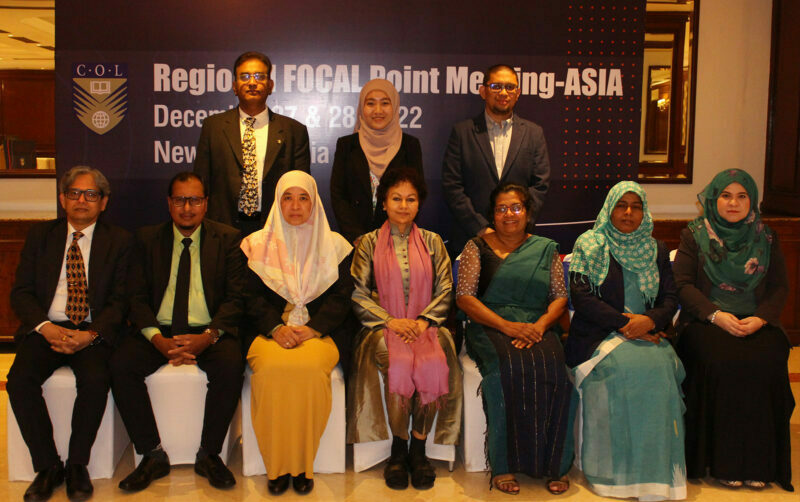 Reading Time:
5
min read
The Commonwealth of Learning (COL) recently organised the Regional Focal Points Meeting for Asia in New Delhi, India, from 27 – 28 December 2022. The meeting was chaired by Professor Asha Kanwar, President and CEO, COL, with Dr Sanjaya Mishra, Director: Education, COL and Dr B Shadrach, Director, CEMCA facilitating the two-day meeting that engaged the Focal Points in identifying key priorities of their respective countries in the education and skills sectors where COL could offer support.
As it was the first face-to-face meeting since the Covid-19 pandemic, and there were some new Focal Points, the meeting also acquainted participants with their new role and introduced them to:
COL's Strategic Plan 2021-27;
COL's results-based framework; and
Open Educational Resources and the Green Learning Agenda.
The Focal Points' present on the occasion included Mst. Rokhsana Begum, Deputy Secretary, Ministry of Education, Government of the People's Republic of Bangladesh; Yang Mulia Dayang Rosimah Sumaimah binti Haji Matassim, Acting Executive Secretary, Ministry of Education, Brunei Darussalam; Mr Mrutyunjay Behera, Economic Adviser, Ministry of Education, Government of India; Ms Noor Jismin binti Mohd Yusoff, Principal Assistant Secretary, Ministry of Higher Education, Malaysia; Mr Ahmed Mausoom, Education Development Professional, Ministry of Education, Government of Maldives; and Ms Hasini Thalagala, Director of Education, Ministry of Education, Sri Lanka.
Professor Kanwar welcomed the representatives from six Commonwealth Asia countries and provided an overview of COL's work with a focus on how technology related to emerging trends and practices are shaping education and skills in the post-COVID world. Blended learning would be the norm in the coming years. Commonwealth countries would also need to integrate a Green Learning Agenda into their education system to tackle the crisis resulting from climate change. She summarised COL's purpose and activities as:
Promoting learning for sustainable development;
Supporting innovation for affordable and accessible technologies; and
Serving the last person at the last mile.
The meeting adopted an interactive and participatory approach to engage all Focal Points in discussions around their priorities. The key national priority areas identified were:
Building capacity of teachers;
Embedding blended learning in their respective education systems; and
Creating skills for livelihoods, while a few countries added Life-long Learning for Farmers and Blue Economy skills as priorities.
Participants expressed appreciation for the ongoing support extended by COL and CEMCA to their respective countries.
Professor Kanwar concluded the session by highlighting the role of the Focal Points as COL's ambassadors to inform the higher education authorities about COL's activities in the region and justify their countries' contributions to COL. In addition, they have a vital role to play in integrating a Green Learning Agenda as 'Climate Change Champions.'