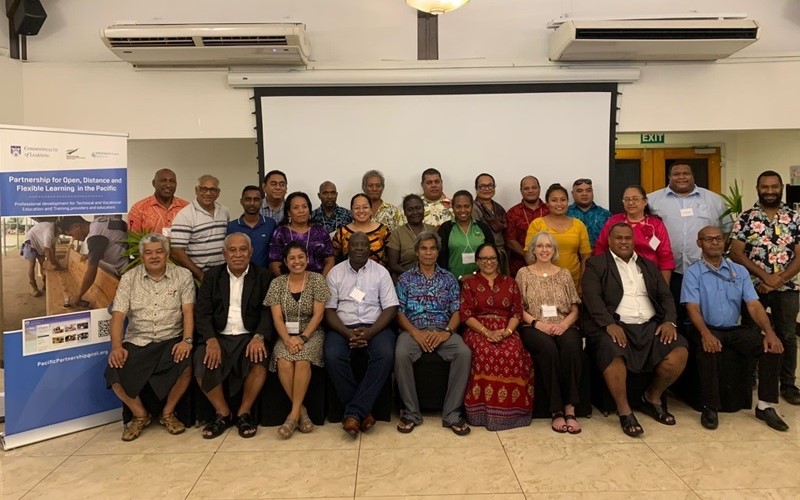 Reading Time:
4
min read
The Commonwealth of Learning (COL) hosted a four-day regional workshop on the professional development of Technical and Vocational Education Training (TVET) practitioners in the Pacific region using open, distance and flexible learning (ODFL) approaches in Lautoka, Fiji.
Participants from nine Pacific Commonwealth countries – Fiji, Kiribati, Nauru, Papua New Guinea, Samoa, Solomon Islands, Tonga, Tuvalu and Vanuatu – attended the workshop, including ministry officials responsible for TVET and TVET regulatory bodies, technical and vocational education trainers and industry-based trainers.
The workshop was held as part of the activities under the Partnership for ODFL in the Pacific project that is being implemented through funding from the New Zealand Ministry of Foreign Affairs & Trade (MFAT). The project, a collaborative initiative between COL and the Pacific Centre for Flexible and Open Learning for Development (PACFOLD), was launched in 2021 for the professional development of trainers, master crafts persons and TVET leaders. The practitioners are encouraged to make use of the microlearning resources on the Pacific TVET Online Toolkit to acquire professional skills through self-directed learning, on-the-job experience and other non-traditional means, with support from mentors.
In her opening remarks at the workshop, Dr Rajni Chand, Director of PACFOLD, said the Pacific region is currently facing major challenges in skills development for trainers, institutions, employers, as well as trainees. The workshop provided all stakeholders with a platform to design much-needed resources and to establish a network so that all TVET practitioners can work with confidence, knowing that what they teach, learn and contribute is to expected standards.
Mr Robert Okinda, Adviser: Skills at COL, explained that the evolving nature of TVET requires practitioners to adopt a lifelong learning mindset. He went on to say that through regional partnerships and collaboration in the continuous professional development of practitioners, along with remote access to microlearning resources on the Toolkit, these can lead to recognition and accreditation of skills or micro-credentials acquired informally by learners for decent jobs that are personalised to individual needs.