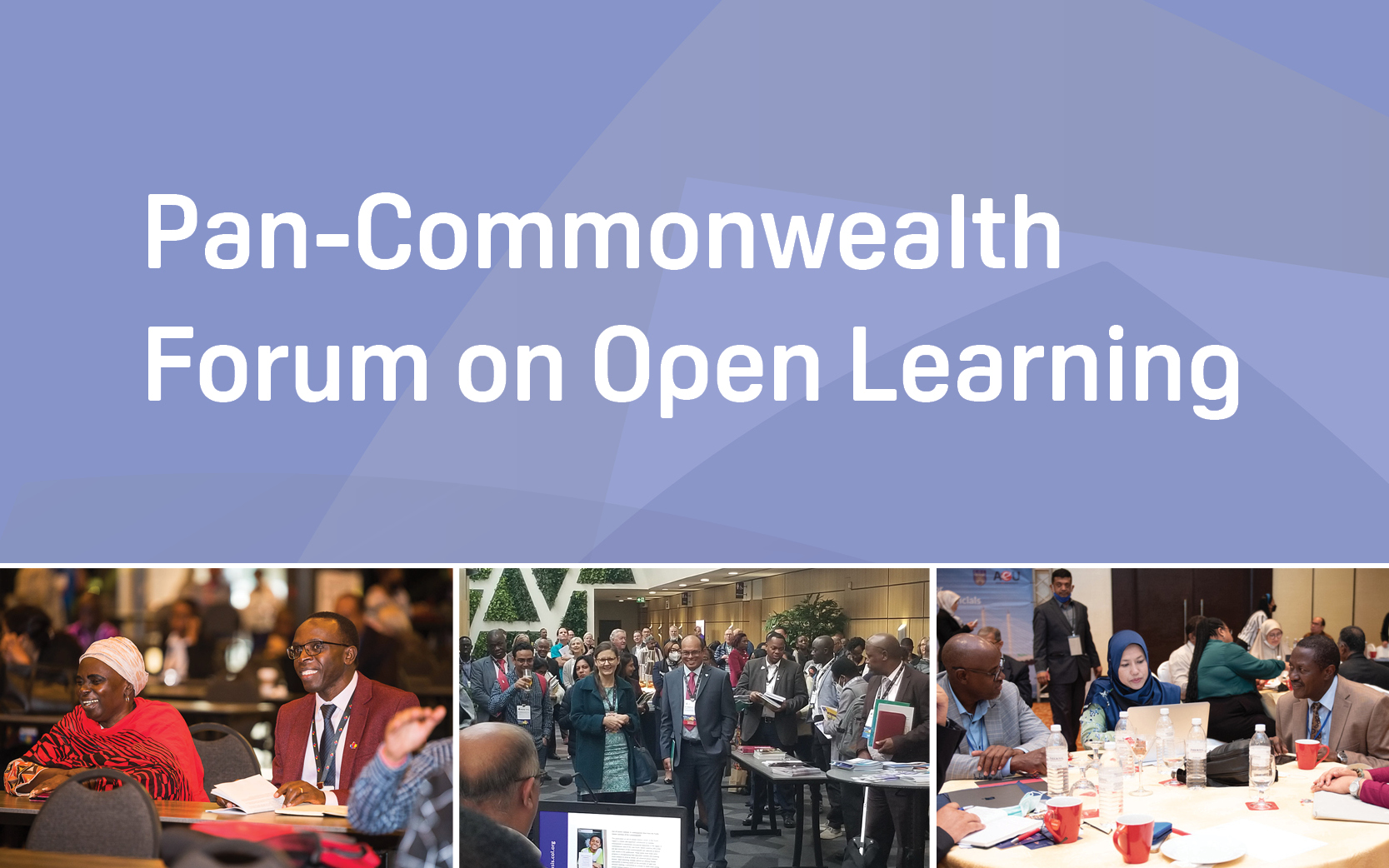 Reading Time:
10
min read
Background
The Commonwealth of Learning (COL) holds a Pan-Commonwealth Forum on Open Learning (PCF) triennially which is co-hosted with different open, distance and flexible learning partners in different regions of the Commonwealth. The three-day programme is designed to address online, flexible, open and distance learning through widening educational access and by advancing the social and economic development of communities and nations. The Forum's focus is on topics relating to, and participation by, societies in developing countries. COL's Excellence in Distance Education Awards are also presented at the Forum.
The Forum has been held in Brunei Darussalam (1999); South Africa (2002), New Zealand (2004), Jamaica (2006), United Kingdom (London 2008), India (2010), Nigeria (2013), Malaysia (2016), United Kingdom (Edinburgh 2019) and Canada (2022). Some highlights of PCF10 (Calgary, Canada, September 2022) are available in the November 2022 issue of COL's Connections newsletter.
The Forum attracts between 500 – 700 delegates from all regions of the Commonwealth and beyond. Delegates include ministers of education and senior officials, vice chancellors/presidents of universities and leaders of public agencies connected with open and distance learning, as well as policy makers and practitioners from the field of education, technology and development. A number of non-governmental, community-based and not-for-profit organisations participate in the Forum and their numbers are on the increase. For-profits, such as technology companies, also participate in the Forum.
The Forum combines multiple types of events – including, but not limited to, academic presentations, networking and a 'Market Place' – with opportunities for capacity development and networking. Along with regional interests and priorities, COL's strategic agenda features in the development of the programme.
For more information, visit https://www.col.org/about/pan-commonwealth-forum
Expressions of Interest to host the Eleventh Pan-Commonwealth Forum on Open Learning (PCF11)
COL invites institutions to submit Expressions of Interest (EOI) to co-host the Eleventh Pan-Commonwealth Forum on Open Learning (PCF11). We are seeking a partner institution that is a leader in open, distance and flexible learning and has experience hosting international conferences. The successful partner should be able to work closely with their respective government and national organisations through formal arrangements and to secure additional sponsorship for the Forum. Consideration will also be given to the geographical location of the partner and to national visa requirements for ease of travel for participants.
PCF11 Framework
I. PCF11 Format

The Conference is to be held in the latter half of 2025.
It will be a three-day event plus a day for registration and opening ceremonies.
II. Co-host's Role
Mobilise substantial participation of the flexible and online learning, open and distance learning and learning-for-development stakeholders from within the country and the region.
Identify and source conferencing and accommodation facilities of international quality at an affordable cost.
Establish a local hosting organisation, involving suitable groups and committees, for conference arrangements, including accommodation, transportation, hospitality, publicity and security.
Liaise with the national and/or state/provincial/local governments for purposes of local hosting, protocol and visa matters and to secure high-level participation in the Forum.
Mobilise contributions (including local government support) to cover the hosting expenses.
Identify and deputise experts to work with a COL-appointed Forum Programme Manager to help shape an outstanding programme.
Manage a robust, usable and reliable conference website with social media functionalities.
Make available adequate infrastructure for hosting a number of sessions in a virtual mode for registered delegates.
III. COL's Role
Ensure the participation of an internationally recognised Forum Programme Manager, who will work with COL committees/staff, the local hosts and international associates to develop and execute the Forum programme.
Extend support to the co-host through a Planning Committee whose membership comprises senior staff of COL and the expertise of COL's Education Specialists/Advisers and international network to help shape the Forum programme.
Raise financial support from global and international organisations to support attendance at the Forum.
Management of online systems for submission, review and publication of Forum papers and documents.
Management of an online registration and secure payment system for delegates and other participants (data shared with co-host).
Provide international visibility to the Forum, the host country and local host through COL's channels and networks.
In consultation with local hosts, make the selection, offer and travel arrangements for keynote speakers.
Maintain overall responsibility for the Forum and the EDEA awards.
IV. Finances
It is not intended that the Forum will generate a surplus of revenues over expenses and, therefore, COL and the local hosts are not expected to make significant gains financially.
The local host must keep, and make available to COL, up-to-date and accurate financial records of all transactions and contractual commitments for the Forum.
V. Logistics
Conference venue – it is preferred that the primary accommodation and conference venue be a combined facility or with adjacent/nearby facilities.
COL and the local host will enter into a Memorandum of Agreement (MOA) which will detail the nature of the partnership.
EOI Process
I. Deadlines

The EOI is to be submitted to the attention of Vice President, COL, on or before 20 January 2023 by email to: VPOffice@col.org
II. All EOIs should include the following:
Information about the submitting organisation/institution/government and other partners in the submitting consortium.
Experience in managing national/regional/global conferences.
Processes and plans to ensure a successful event (including timelines).
Indicative budget for hosting PCF11 with revenue projections and potential sources of funding.
The unique value proposition of the EOI.
III. The EOI should be a maximum of 10 pages (excluding annexures).
IV. COL will review all EOIs received and reserves the right to engage further with organisations/institutions prior to making a final decision.
V. An announcement on the host of PCF11 will be made in February 2023.