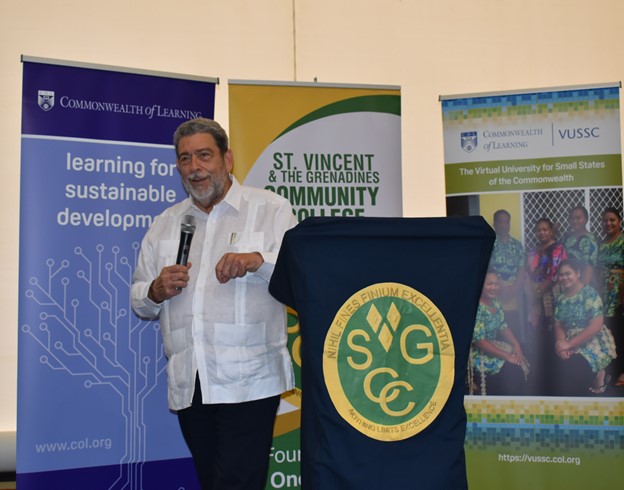 Reading Time:
4
min read
The Commonwealth of Learning (COL) is partnering with St Vincent and the Grenadines Community College (SVGCC) to expand access for Vincentian students to online and blended learning. At the project launch on 6 February 2023, Prime Minister, the Honourable Dr Ralph Gonsalves, described COL as "an institution of solidarity" and underscored the importance of e-learning for St Vincent and the Grenadines, especially in light of his government's plan to have at least one graduate per household by 2030.
In his address, he stressed the importance of ensuring quality content for online courses, customised to meet the needs of Vincentians.
"Technology is the medium, but it has to have content," he stated.
Speaking at the launch, Mr Nigel Scott, SVGCC's Director, welcomed the partnership with COL and the focus on strengthening the College's capacity to offer quality online and blended courses through the project's several training and support activities. He explained that the cessation of face-to-face instruction as a result of the pandemic had accelerated the need to make SVGCC courses available online and to ensure all staff are fully equipped to function in an online learning environment.
COL Education Specialist, Dr Mairette Newman, provided the more than 70 senior officials from the Ministry of Education, Faculty and students with an overview of the project.
"As the world's only organisation focused on the development of distance education and open learning, COL is excited to work with the SVGCC on this important project – online learning will allow the College to push its courses to St Vincent and the Grenadines, thus giving hundreds of students access to post-secondary education: living on a small island shouldn't be a barrier to a college education," she said.
In the first of four capacity-building activities to take place between February and June, 25 lecturers will be trained to design, develop and facilitate online courses in the areas of Caribbean Studies, Communication, Human Relations, Information technology, Maths, Psychology, and Spanish.
As part of the project, the College will also be assisted by COL with developing policy for online teaching and learning, as well as building a learning support system for online learners.