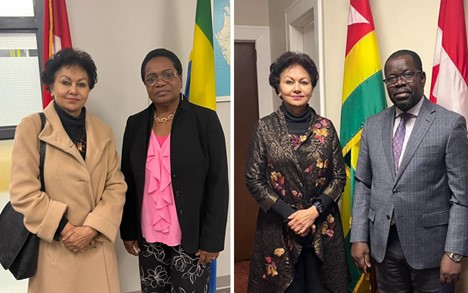 Reading Time:
4
min read
COL's President and CEO, Professor Asha Kanwar, while in Ottawa from 29 November to 1 December held meetings with Chargé d'affaires Madame Rosine Engone Oliveira, Embassy of Gabon in Canada and with Mr Ptangme Peketi, High Commission of Togo to Canada to find out how COL can support them based on each of their country's key educational priorities and needs.
Gabon and Togo became the 55th and 56th members of the Commonwealth, respectively on 25 June 2022 following approval from Commonwealth leaders during the Commonwealth Heads of Government Meeting (CHOGM) in Kigali, Rwanda.
Professor Kanwar briefed the diplomats on COL's work in promoting learning for sustainable development which leads to economic growth, social inclusion and environmental conservation, as well as outlining how COL can support technology-enhanced learning for a more effective delivery of education and training in these Member States. She also explained what membership in the Commonwealth of Learning can offer and extended a warm invitation to Gabon and Togo to become members of COL.
COL's President commented,
"We are very happy to welcome Gabon and Togo to the Commonwealth and it was such a pleasure to meet the acting high commissioners in Ottawa and brief them on how COL can support their education and training priorities."
As part of her itinerary, Professor Kanwar attended the Colleges and Institutes Canada board meeting. She also met with Chrystiane Roy, Director of the Commonwealth and Francophonie Division, and David MacDugg, Deputy Director for the Commonwealth, Global Affairs Canada (GAC) to brief them about matters related to governance. GAC is the department that contributes to COL's budget and nominates the governor to represent Canada as a major donor on the Board of Governors of COL.
Pictured above (left to right): Professor Asha Kanwar, President and CEO, Commonwealth of Learning, and Mme Rosine Engone Oliveira, First Counsellor & Chargé d'affaires, Embassy of Gabon in Canada and Professor Kanwar with Mr Ptangme Peketi, Chargé d'affaires, High Commission of Togo to Canada.