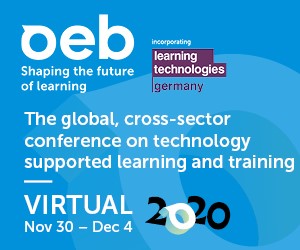 Reading Time:
3
min read
Image Courtesy of OEB.
COL President and CEO Professor Asha Kanwar delivered a keynote talk at Online Educa Berlin, the global, cross-sector event on technology supported learning and training. The 26th edition, which runs through 4 December 2020, is expected to engage a wide international community of over 80,000 learning and technology professionals.
In a presentation titled "Brave New World that has Such Education Futures," Professor Kanwar spoke about the blend of in-person learning with online technologies that are affordable, accessible and available – as the model for the future.
"Because of the digital divides and the uneven development of technology, COL believes that technology, to be effectively harnessed, must be placed in an appropriate social, cultural and political context," she noted describing COL's targeted response to the education challenges created by the COVID-19 pandemic.
She spoke about the need for governments and institutions to develop policies to leave no one behind, particularly women, girls, those in remote regions and persons with disabilities. According to Professor Kanwar, policies on ICT infrastructure and governance will determine how technology can close rather than widen divides.
"A successful outcome of education today is the acquisition of skills and competencies. A transformative approach would go beyond that to empowering individuals not just to be prepared for change but to also shape the course of that change," she concluded.
The full transcript of the presentation can be accessed here.