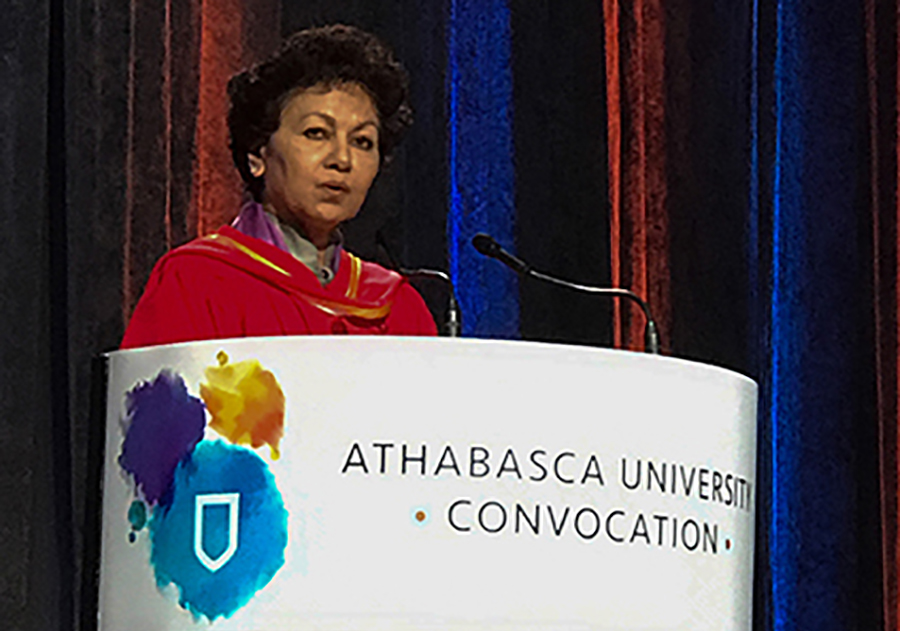 Reading Time:
3
min read
COL President and CEO Professor Asha Kanwar was conferred an honorary doctorate degree from Athabasca University (AU) on 8 June 2019 in recognition of her global leadership in open and distance learning.
In her convocation address, Professor Kanwar recalled how she first learned of AU when she joined the Indira Gandhi National Open University. She was impressed by AU's model of 'openness' because of its flexible entry qualifications and focus on reaching remote and unreached learners. She added, "I had never imagined then that one day I would receive an honorary doctorate from this great institution. Thank you for this special honour."
COL has a long history working with AU. Together, the organisations have offered training programmes and courses throughout the Commonwealth and beyond. For example, a MOOC offered jointly by COL and AU on Technology-Enabled Learning has reached hundreds of teachers in more than 70 countries. AU also holds a COL Chair.
With a career spanning over 35 years, Professor Kanwar is one of the world's leading advocates of learning for sustainable development. She has made outstanding contributions in the areas of teaching, research and international development in the field of education.
Professor Kanwar has won several international awards, including the International Council for Open and Distance Education (ICDE) Prize of Excellence, and the Meritorious Service Award for outstanding contributions in open and distance education from the Asian Association of Open Universities. She has been conferred seven other honorary doctorates from Universities in Asia, Africa, and Europe.
Read the President's convocation address here.
Professor Kanwar also sat down with AU for an interview on what the honorary degree means to her. Read the Q+A here.