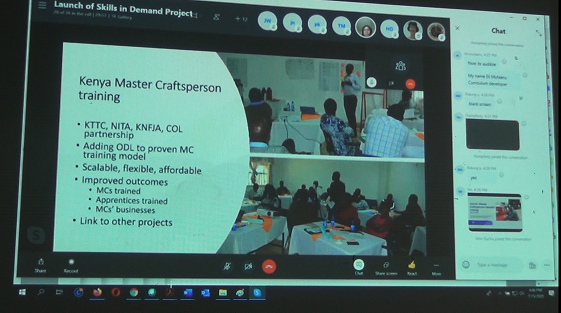 Reading Time:
3
min read
Some 4,500 master craftsmen and women (MCs) from Kenya will be able to share their skills and knowledge with apprentices interested in running small training businesses through an innovative project facilitated by COL. It was launched on 15 July 2020 in partnership with the Kenya Technical Trainers College (KTTC) and aims to tap into informal apprenticeships as a way of boosting employment and entrepreneurship. Other project partners include the National Industrial Training Authority and the Kenya National Federation of Jua kali Associations.
At the virtual project launch, KTTC Principal, Mrs Hilda Omwoyo stressed the importance of collaboration, saying, "One finger cannot do anything, we need to work together for success."
Through a blend of in-person and online learning, the project targets MCs who are unable to access pedagogical training due to work and family commitments, travel and financial constraints. The design takes advantage of the growing uptake of smartphones, with focus on blending workplace and jua kali sheds-based learning with technology-enabled learning.
Representatives from the Ministry of Education's State Department for Vocational and Technical Training and the State Department for Post Training and Skills Development, as well as the Kenya National Qualifications Framework Authority (KNQFA), TVET Authority and TVET Curriculum Development Assessment and Certification Council participated in the launch.
Expressing his appreciation of the project, Mr Fred Oanda TVETA Deputy Director, noted, "If Kenya is to become a globally competitive country, MCs need to be up there in terms of skills."
Ms Terry Neal, COL's Education Specialist: Technical and Vocational Skills Development said: "With this project, COL is bringing its long-term partnership with KTTC to a new level – supporting Kenya's vision for five million TVET learners over the next five years."