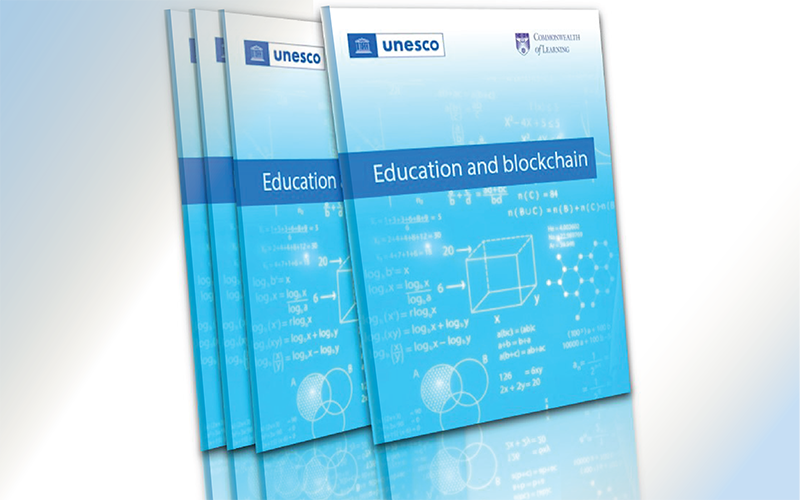 Reading Time:
4
min read
The Commonwealth of Learning (COL) and the United Nations Educational, Scientific and Cultural Organization (UNESCO) have just released their comprehensive open access publication Education and blockchain.
Co-published by COL and UNESCO, the 74-page document details how blockchain is a potential game changer in education and, more specific to COL, open and distance learning (ODL) and its massive open online course (MOOC) offerings. The publication is authored by Dr Venkataraman Balaji, Vice-President of COL, Dr Alex Grech, Founding Director of the Commonwealth Centre for Connected Learning, and Dr Fengchun Miao, former Director of Technology and Knowledge Management and Chief of the Unit for Technology and Artificial Intelligence in Education at Education Sector, UNESCO.
What is blockchain?
In short, blockchain is a verification infrastructure that offers a solution to the problem of how to verify digital identity – a shared, decentralised and secure ledger technology to record and store digital transactions of almost any digital assets including digital identities, medical and educational records, birth and marriage certificates, skill credentials and digital contracts.
Education and blockchain is aimed at policymakers in education who have an interest in understanding the affordances of blockchain technology to the education sector. To date, exploratory exercises with blockchain demonstrate that it is now possible to deploy the technology to cover credentialing and certification in both formal and non-formal learning.
The publication also sheds light on the implications of blockchain technologies for gender equality while drawing attention to the negative impact of the use of blockchain, especially on the environment and ecosystems.
COL President and CEO, Professor Asha Kanwar, commented on the positive impact blockchain can provide for the future of education and learning for sustainable development,
"Since 2018, COL has offered a series of activities to improve awareness of the opportunities that blockchain can offer to leaders in education – for example, its MOOC on the use of blockchain in education. This was supplemented by a series of webinars and online workshops on blockchain for leaders of educational institutions and senior officials from Member countries in eastern and southern Africa. The present publication is a continuation of COL's effort to familiarize key stakeholders with the potential and benefits of blockchain in education."
The open access publication is now available online and for download at http://hdl.handle.net/11599/4131.