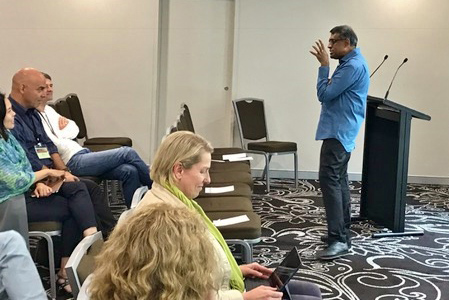 Reading Time:
3
min read
COL Vice President Dr K. Balasubramanian spoke at the Open and Distance Learning Association of Australia 2017 Conference on 6 February 2017. Speaking on the topic of "Structure, Function and Impact of Lifelong Learning Using ICT and ODL", Dr Balasubramanian noted that while lifelong learning has been talked about, there has been little effort to institutionalise it as a program in many countries. He said that this is mainly due to the challenges of blending formal education, non-formal learning and informal learning. While Sustainable Development Goal 4 (SDG4) talks about lifelong learning, its emphasis in terms of targets and indicators has not been adequate, he said.
The presentation called for integrating the three approaches of pedagogy, andragogy and heutagogy to strengthen lifelong learning. He said that such an approach will be outcome and impact oriented with a focus on issues such as economic growth, social inclusion and environmental conservation. Using the examples of the Lifelong Learning for Farmers initiative in Kenya and Ghana, the integration of the three approaches and its impact on the participants in terms of empowerment was elaborated.
The presentation called for moving beyond a "Learning in Education" approach to a "Learning in Development" framework for strengthening the role of SDG4 in the Sustainable Development Goals. The presentation submitted that ODLAA should look into the scope of enhancing the role of ODL in non-formal learning, particularly in the Pacific, to address issues such as environment sustainability, economic growth, skills development and domestic violence.