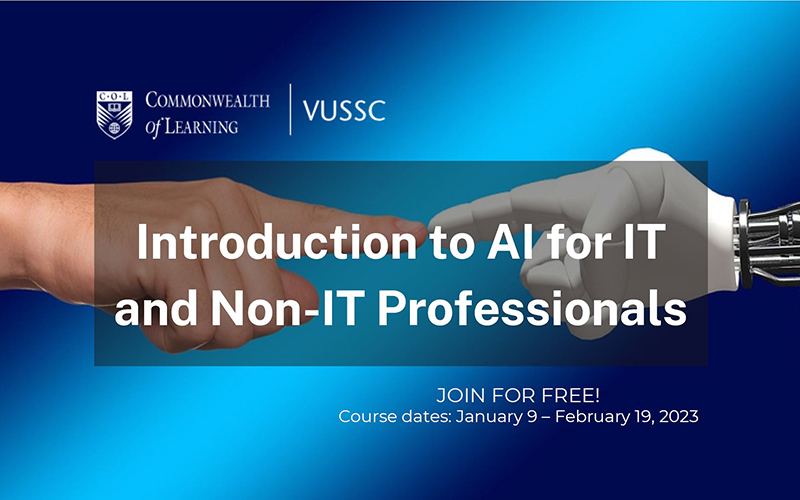 Reading Time:
2
min read
The Commonwealth of Learning (COL), as part of its Virtual University for Small States of the Commonwealth (VUSSC) initiative, is now offering its 'Introduction to AI for IT and non-IT professionals' course.
Developed by Dr Zafar Alvi at the Virtual University of Pakistan with support from COL, this free online course is open to anyone interested and will teach participants about trends, technologies and tools for AI and AI in business, society, and industry – starting from the basic concepts to advanced topics including deep learning, big data, internet of things (IoT) and blockchain.
The six-week, self-paced asynchronous course is based on topic videos only and is meant to familiarise e-learners with the hot topics and technologies of today, including trends, technologies and tools for AI and AI in business, society and industry.
Participants will obtain an overview of problem solving and search strategies, knowledge-based systems, expert system, fuzzy logic, natural language processing, robotics, machine learning and neural networks.
The course runs from 9 January – 19 February 2023.
To register by 2 January 2023 deadline, please visit https://bit.ly/ai3reg or click https://vussc.col.org/index.php/2022/12/09/introduction-to-ai-for-it-and-non-it-professionals/ for more information.